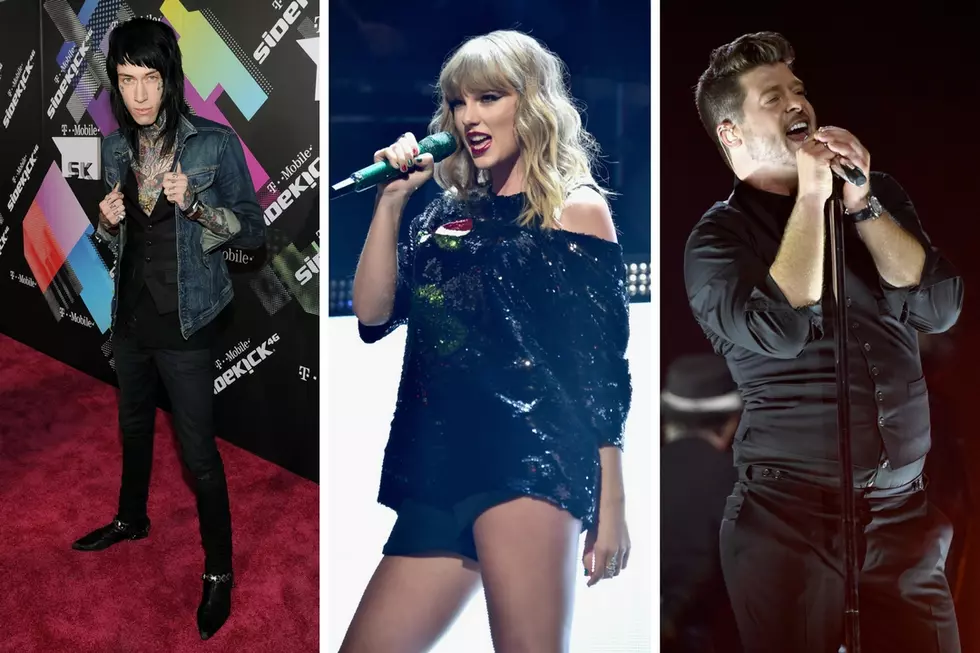 The 11 Worst Celebrity Breakup Songs, From the Substandard to the Savage
Michael Buckner/Getty Images for T-Mobile; Theo Wargo/Getty Images for iHeartMedia; Bryan Bedder/Getty Images for TIDAL
For every stellar breakup song (and there are many), there's also a trove of truly terrible ones, whether that means a track that's straight up bad or genuinely good, but brutal. Below, look back on some of celebrities' worst (and harshest) musical spars.
1

With lyrics like "I got hooked, you're my heroine" and "Shed more tears than southern rain," Trace Cyrus' "Brenda" is as cliché as it is cringey. He penned the track for ex-fiancé Brenda Song, who he dated on and off for a tumultuous seven years. "Her and I have both moved on and I'm extremely happy for her," he wrote on Instagram when announcing the track. "When I wrote this song it was my final goodbye as we ended our relationship."

2

Robin Thicke, "Get Her Back"

Penned for Paula Patton, his ex-wife and high school sweetheart, Thicke's "Get Her Back" is a heartfelt but way too desperate plea for a reconciliation. The accompanying video featured screencaps of texts like, "I hate myself." "You embarrassed me," and "I can't make love to you anymore," exposing intimate details for all the world to see. He went on to release an entire album dedicated to her, 2014's Paula, but later admitted he was embarrassed by the way he went about things.

3

Miley Cyrus' whiny 2008 Nick Jonas tell-off is teen pop at its worst. "I want him to be upset. That was my point," she told Ryan Seacrest of the song.

4

Eminem, "Bagpipes from Baghad"

"Bagpipes from Baghdad" is a weird, Scottish-influenced 2009 cut that puts Eminem's reported relationship with Mariah Carey on blast — a relationship that Mimi herself has vehemently denied. The same year, Carey released the inarguably better "Obsessed," plus a matching video with spot-on shade.

5

Abigail Breslin, "You Suck"

6

Katy Perry, "Circle the Drain"

Katy Perry's rage-driven rocker about ex Travie McCoy took things a step too far with mean-spirited lines like, "You think you're so rock and roll, but you're really just a joke" and "You fall asleep during foreplay / 'Cause the pills you take are more your forte." (While dating Perry in 2008, McCoy entered a rehab facility to deal with an addiction to pharmaceutical drugs). But when asked about the song in 2010, McCoy didn't hesitate to hit back: "I'm just stoked that she finally has a song with some substance on her record," he told the outlet.

7

Big Sean, "I Don't F--- With You"

8

Taylor Swift, "We Are Never Ever Getting Back Together"

Pop music's breakup queen certainly knows how to pen a good eff you. "We Are Never Never Ever Getting Back Together" — reportedly about Jake Gyllenhaal — is one of her best, but it's also one of her most savage.

9

Taylor Swift, "Dear John"

Swift's 2010 takedown ballad, "Dear John," was so effective that its alleged subject, John Mayer, said it "humiliated" him.

10

The Jonas Brothers, "Much Better"

An apparent response to Swift entries like "Last Kiss" and "Forever and Always," both rumored to be about Joe Jonas, "Much Better" name-drops "Teardops On My Guitar" and publicly declares Joe's moved on to someone "better."

11

Justin Timberlake, "Cry Me a River"

"Cry Me A River," supposedly about Britney Spears, is another excellent but severe entry that airs out Spears' dirty laundry. "You don't have to say, what you did. I already know, I found out from him," Timberlake sings.