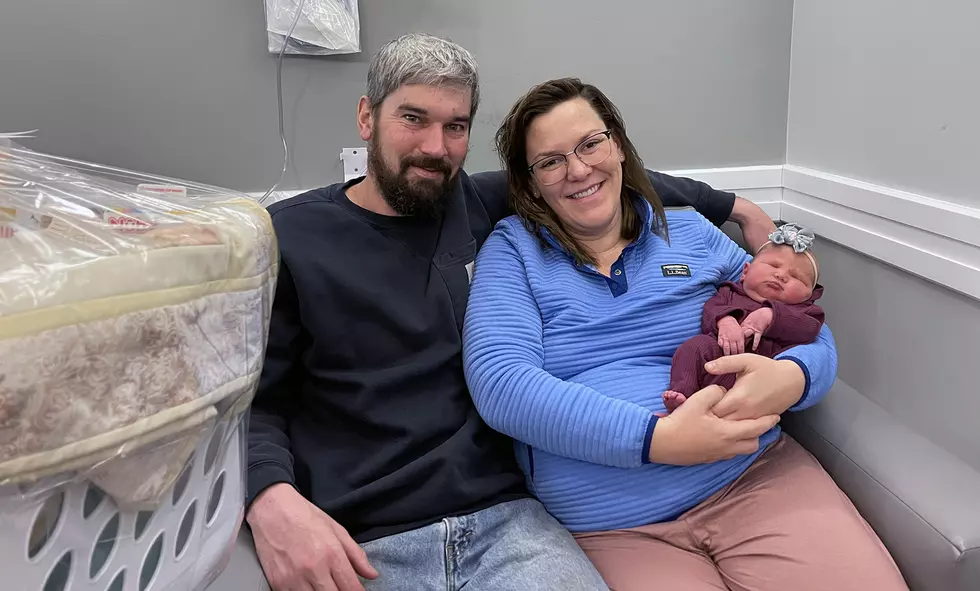 A.R. Gould Hospital in Presque Isle Welcomes First Baby of the New Year
Northern Light Health A.R. Gould Hospital
A big congratulations goes out to Rebecca and Michael Guerrette from Frenchville who welcomed Mildred Amy to the world on Saturday, January 7, 2023. She was the first baby of the new year born at Northern Light Health A.R. Gould Hospital in Presque Isle.
A.R Gould Hospital's New Year's Baby
Millie was born at 7:56 pm and weighed 8 lbs and 1 oz. She was 20 ¾ inches long. Millie was originally set to arrive on January 27, but came earlier than expected, said a press release from the hospital sent on January 10.
Karen Gonya, Communications Manager for A.R. Gould, said "the couple arrived at the hospital after Becky's water broke at home. Since trying to induce labor was not working, a c-section was performed for the safety of both mom and daughter."
"I just assumed it had already happened"
The parents said they were surprised to find out that Millie would be the first baby born in the new year at the hospital. The mother, Becky Guerrette, said, "I just assumed it had already happened, and with Millie due later in the month, it never really even occurred to me that we might have the new year baby."
Mother Used to Work at A.R. Gould Hospital
Guerrette is currently the Fort Kent school nurse. Before that, she worked in the Women and Children's Unit at A.R Gould Hospital.
"I have gotten the care that every new mother needs and deserves"
Millie was delivered by Louis Wesley, MD, a provider who recently joined the hospital's OB/GYN practice. Guerrette said, "He was just great. He's been in to see me a couple of times, and the midwives that I saw for my prenatal care have come in to check in on me too even though it was the weekend," said Becky. "The providers and nurses both on this floor and in the OR have been so attentive and reassuring. It's hard sometimes for a nurse to be a patient, but they have made it such a positive experience for me and for Mike too. I have gotten the care that every new mother needs and deserves."
Crown of Maine Quilt Guild
The hospital gave the family a basket of baby supplies including a homemade quilt featuring baby animals from the Crown of Maine Quilt Guild, made by Denise Kelly.
Bundle of Joy
Please join the community in wishing the Guerrette family the absolute best and a heartfelt congratulations.
LOOK: Food history from the year you were born
From product innovations to major recalls,
Stacker
researched what happened in food history every year since 1921, according to news and government sources.
LOOK: Things from the year you were born that don't exist anymore
The iconic (and at times silly) toys, technologies, and electronics have been usurped since their grand entrance, either by advances in technology or breakthroughs in common sense.
See how many things on this list
trigger childhood memories—and which ones were here and gone so fast you missed them entirely.