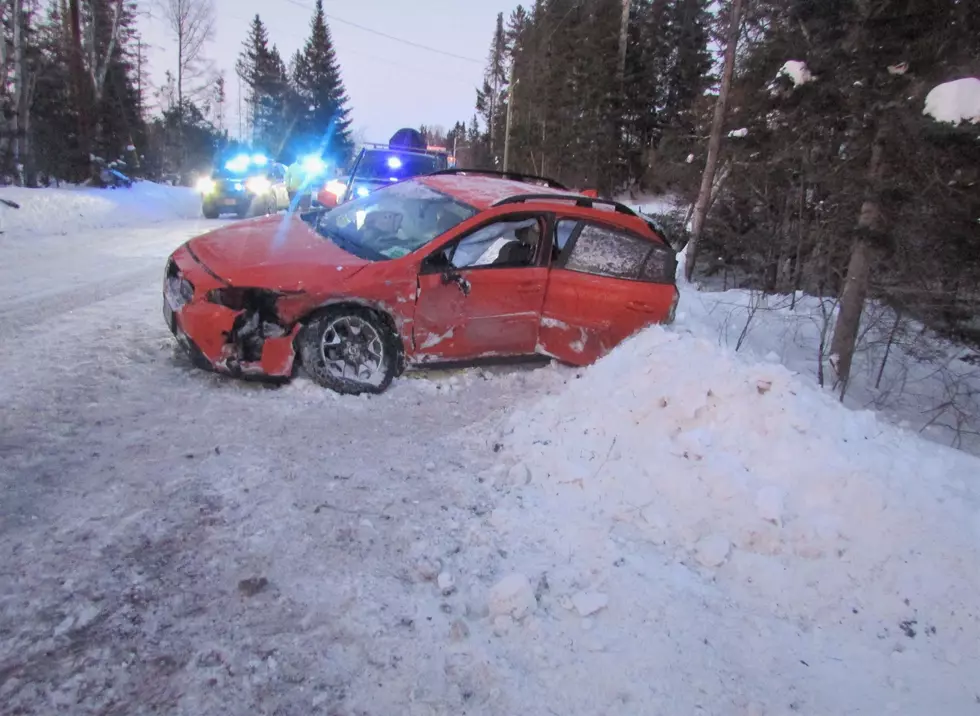 Two Teens Critically Injured in Two-Vehicle Collision in Northern Aroostook
Maine State Police
Maine State Police report an 18-year-old Washburn man and a 15-year-old girl were seriously injured Monday afternoon when the SUV they were in drove into the path of another vehicle in Wallagrass, Maine.  
Troopers say Angel Bubar was operating a 2018 Subaru Crosstrek when he pulled out onto the Sly Brook Road from a private driveway shortly before 3:50 p.m.  At the same time, 21-year-old C.J. Rocheleau of Fort Kent was traveling east on Sly Brook Road in his 2011 GMC Sierra pickup, according to a news release from Troop F.  Rocheleau was unable to avoid a collision and struck the front driver's side of the SUV.

Young Washburn man and teen hospitalized with serious injuries after crash
Police say Bubar and his 15-year-old female passenger were seriously injured in the crash. Both were transported by ASI Ambulance Service to Northern Maine Medical Center in Fort Kent. They were later transferred by LifeFlight to Northern Light Eastern Maine Medical Center in Bangor. Both remain in critical but stable condition, police say.
Rocheleau was treated for minor injuries at NMMC in Fort Kent and was later released.
Trooper Matt Curtin was the lead investigator. He was assisted at the scene by Trooper Andrew Levesque and Corporal Nick Casavant of the Maine State Police, along with Wardens Kayle Hamilton, Nick Raymond and James Gushee of the Maine Warden Service, and Crash Reconstructionist Sgt. Kyle White of the Presque Isle Police Department.
The road was snow-covered at the time. State Police say the investigation is active and ongoing.
Vintage Photos - Life on the Farm in Aroostook County (1942)