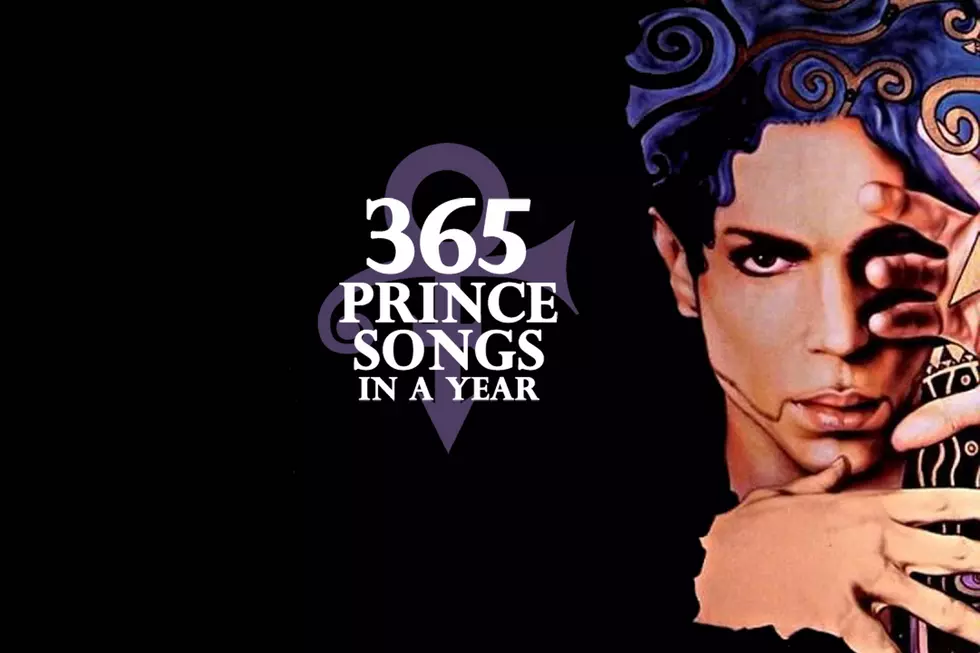 Prince Re-Records His Past for 'Purple Medley': 365 Prince Songs in a Year
Warner Bros.
To celebrate the incredibly prolific, influential and diverse body of work left behind by Prince, we will be exploring a different song of his each day for an entire year with the series 365 Prince Songs in a Year.
In order to promote a 1995 tour of Europe, Prince tried something different. He gave about 20 of his songs -- most of them among his biggest hits -- the Stars on 45 treatment and called it the "Purple Medley."
But rather than piece together the existing recordings, Prince delivered new versions, which Prince Vault believes were recorded in late 1994. The exception was the opener, which used a sample of "Batdance." From there he used, in sequence, "When Doves Cry," "Kiss," "Erotic City," "Darling Nikki," "1999," "Baby I'm a Star," "Diamonds and Pearls," "Purple Rain" and "Let's Go Crazy."
That was just the single edit. For the full 11-minute version, he added "Sexy Dancer," "Let's Work," "Irresistible Bitch" (set to the music of "Sexy M.F."), "I Wanna Be Your Lover," "Alphabet St.," "Thieves in the Temple," the bass line from the Time's "777-9311," Sheila E.'s "A Love Bizarre," "If I Was Your Girlfriend," "Raspberry Beret," "Little Red Corvette," "Peach," "Cream," and "It's Gonna Be a Beautiful Night."
Prince also edited it down to almost eight minutes that he combined with a video that aired in early 1996 on the VH1 special Love 4 One Another. In the clip (embedded above), a Prince fan breaks into his office and inserts a disc containing the video into a computer, and she watches highlights from the original videos interspersed with new footage of him and Mayte Garcia dancing.
The medley ends with dirt being thrown on a grave and the words "Prince 1958-1993. May he rest in peace" appear on the screen, a further acknowledgement of his name change. The woman then receives a phone call from Prince wondering what she's doing. She explains that she's his biggest fan and soulmate, prompting him to ask her to look up the word "fanatic" in the dictionary that just happens to be on the desk. "The best you can be is my friend. I don't need another fan." He adds that his soulmate is onstage with him, wearing gold (presumably Mayte).
The idea that Prince had "died" and was "resurrected" as The Artist Formerly Known as Prince was reinforced on both the cover of 1994's Come and on the 1995 American Music Awards, where the single edit of "Purple Medley" was choreographed (featuring Carmen Electra and the ErotiCity Dancers). Then, the Artist and the New Power Generation came out and gave another medley, this time with the star lip-syncing songs from the to-be released The Gold Experience.
He returned to the practice on his last two albums. "Million $ Show," the opening track on Hitnrun Phase One, features "For You," "1999" and "Let's Go Crazy." "Stare," a track from Hitnrun Phase Two, sampled "Kiss" and "Sexy Dancer."
While the "Purple Medley" may have been effective at promoting the tour, it didn't exactly light up the European singles charts. Its highest placing was a No. 19 spot in Norway. It barely made any impact in the U.S., peaking at No 84 on Billboard's Hot 100 and No. 74 on the Hot R&B Singles charts.