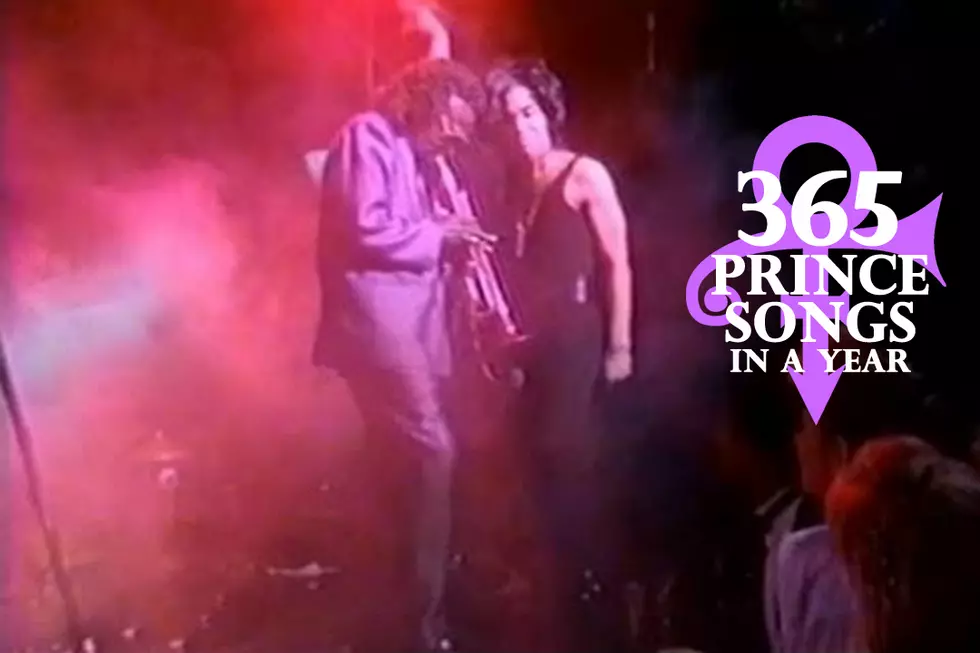 When Prince Asked Miles Davis to Play With Him: 365 Prince Songs in a Year
YouTube
To celebrate the incredibly prolific, influential and diverse body of work left behind by Prince, we will be exploring a different song of his each day for an entire year with the series 365 Prince Songs in a Year.
Throughout his career, Miles Davis was able to keep pushing jazz forward by listening to everything around him. In the late '60s, his friendship with Jimi Hendrix helped spawn jazz fusion, which bore full fruit beginning with 1970's Bitches Brew. More than a decade later, he was naturally drawn to Prince, another brilliant African American guitar player whose work blurred the lines between genres.
"His s--- was the most exciting music I was hearing in 1982," Davis wrote in his 1990 autobiography. "Here was someone who was doing something different, so I decided to keep an eye on him. ... His music is new, is rooted, reflects and comes out of 1988 and '89 and '90. For me, he can be the new Duke Ellington of our time if he just keeps at it."
"Miles Davis was listening to a lot of Prince at the time we were recording 1984's Decoy and 1985's You're Under Arrest," bassist Darryl Jones, who later went on to work with Sting and is currently with the Rolling Stones, told Pitchfork. "Miles was pretty fascinated with him. He was listening to everything, and definitely at that time a lot more funk music, pop and whatever was on the radio. And Prince was all that. ... Ultimately, I think Miles' connection to Prince was through Prince's connection to James Brown. ... So when I think he heard Prince, he immediately recognized that James Brown influence, and that's what drew him in. And, of course, you can't deny how funky Prince's music is, and that was a real deep thing for Miles. If there was music that moved you in a funky kind of way, he was all over it."
The feeling was mutual. "What Prince really related to about Miles was his character," Prince's saxophonist Eric Leeds told The Last Miles, "his legacy, his mystique and everything that Miles represented as a personality. Prince saw in Miles so much of what he thought of himself – the person that goes against the grain, that's opinionated, that doesn't allow himself to be controlled by any aspect of the industry for his own artistic vision. And that's very much what Miles saw in Prince. He saw a young version of himself."
In the mid-'80s, Davis signed with Warner Bros. after 30 years on Columbia. Davis had shown his ear for contemporary music by covering Michael Jackson's "Human Nature" and Cyndi Lauper's "Time After Time" on his final Columbia effort, You're Under Arrest, so his new label asked its biggest star if he could write something for Davis for his Warner Bros. debut, Tutu, and Prince jumped at the opportunity.
On Dec. 26, 1985, Prince laid down tracks for "Can I Play With U?" with Leeds providing overdubs a week later. But even though they were both in Los Angeles, he wouldn't call Davis into the studio. Leeds continued, "I remember a discussion I had with Prince and he said, 'I don't know exactly what to tell Miles what to do.' And I laughed and said, 'That's exactly what he wants you to do. You're not going to tell him what notes to play but Miles want a new experience and you're one of the few musicians that he's actually willing to go into the studio and open up to: 'Reach into me and try to get something out of me that I haven't been able to do.'' And I said to Prince, 'What's the worst thing that can happen – he walks out of the studio – so what!'"
Instead, according to Prince Vault, Prince sent the tapes, vocal and instrumental versions, to Davis with a note that read, "Miles, even though we have never met, I can tell just from listening to your music that you and I are so exactly alike that I know whatever you play would be what I'd do. So if this tape is of any use to you, please go ahead and play whatever you feel over it. Because I trust what you hear and play."
A few months later, Davis put his trumpet part on it and returned it to Prince for extra work. "Finally, when we listened to that track," Leeds told Uncut, "Prince came to me and Matt Blistan [the trumpet player known as Atlanta Bliss] and asked my opinion of it. If Prince was going to ask me that, that meant Prince was not 100 percent sure it was that great. I agreed with him. I said, 'If you're going to do something with Miles, this shouldn't be it.' And he agreed."
"Can I Play With U" stayed unreleased, although a 45-second clip of it wound up on the Canadian Broadcasting Corporation's series about Davis, The Man With the Horn. But through the miracle of bootlegging, it has surfaced and is embedded below.
But even though they never were in a studio at the same time, they did eventually perform together. "So we did a concert at Paisley Park," Leeds added. "It was a New Year's Eve, 1987. It was an invitation only performance. Miles was a guest and came on stage with us and played with us on one of the songs. To my recollection and to the best of my knowledge that is the only time Miles and Prince were in a space together performing."
That moment was one of the few times where Prince's famously tight band failed to be concentrating on its leader. "He gave us one of his hand cues to hit a riff and as I remember it, no one hit the cue, because they were all grooving on what Miles was doing and Prince was kinda taken aback!" Leeds remembered, "He yelled, 'Hey, I'm still the boss up here!'"
Leeds also recalled attending a dinner with both of them in 1987 where he got to see a unique dynamic between the two of them at play. "You had these supreme egos that had an undying respect for each other but neither wanted to give it up to each other," he said. "So with Miles, you could almost see the cartoon balloon over his head saying, 'Yeah you're young and hip, but I've got all of these years of experience that you haven't had yet.' While Prince was looking at Miles and saying, 'Yeah, you're the icon – but you're old! I'm the new version!' And it defined and characterized every aspect of their relationship and it was hilarious to sit back and watch that unfold. That was the biggest enjoyment for me – watching these two dance around each other."
Davis recorded three other Prince tracks -- "Penetration," "Jail Bait" and "A Girl and Her Puppy" -- in 1991, a few months before he passed away. Warner Bros. asked Prince to complete the songs for the posthumous Doo-Bop, but Prince refused, saying that he didn't think it showcased Davis at his best.
Listen to Prince and Miles Davis' "Can I Play With U?"
Prince's Former Bandmates: Where Are They Now?