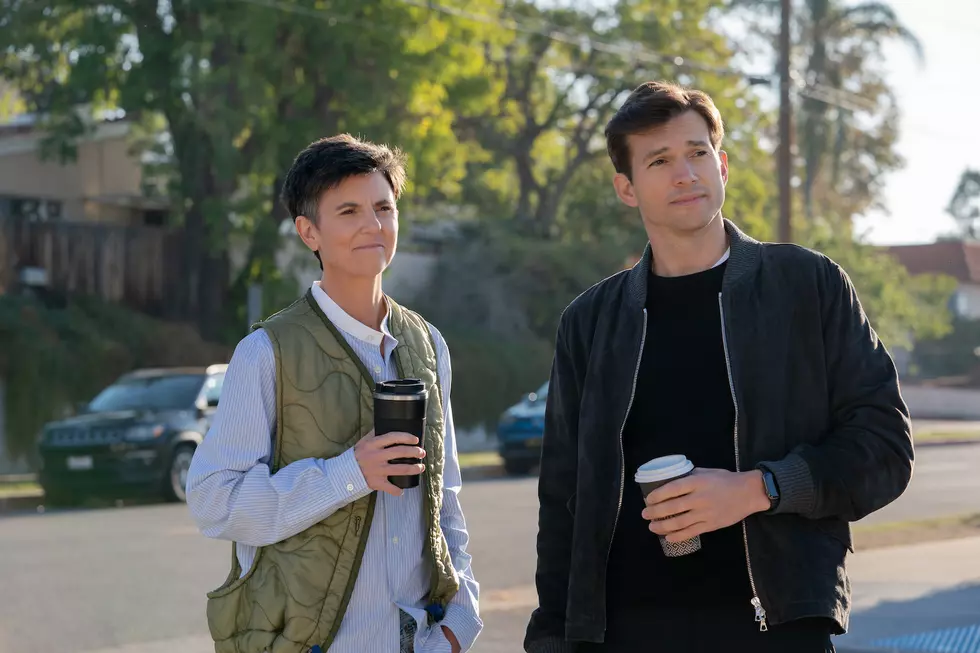 Every New Movie and Show on Netflix in February
Netflix
Just in time for Valentine's Day, Netflix is adding a big new romantic comedy. Your Place or Mine stars Ashton Kutcher and Reese Witherspoon as old friends (and former flames) who swap houses and discover they might (wait for it) love each other. It premieres on the service on February 10.
But that's just one of dozens of titles coming to Netflix in February. There's a wild documentary series called Gunther's Millions about the stranger-than-fiction story of the world's richest dog, along with a new season of the hit series You, plus new episodes of Love is Blind: After the Altar and Married at First Sight. (Ah, romance.) And if you have kids, you'll probably want to watch the adorable Lyle, Lyle Crocodile with them. (Or not; be warned that once they watch it they will probably never stop singing its songs.)
Here's a full list of what's new on Netflix in February:
Avail. 2/1/23
The Great British Baking Show: The Professionals: Season 6 -- NETFLIX SERIES
Teams of the UK's best professional pastry chefs aim to impress with their finest confections in this sibling series to "The Great British Baking Show."
Gunther's Millions -- NETFLIX DOCUMENTARY
A dog with a trust fund isn't the strangest part of this story. Gunther's eccentric handler also lived a luxe life — with a cult-like entourage.
Bad Boys
Bad Boys II
Call Me by Your Name
Daddy's Little Girls
Eat Pray Love
Enough
It (2017)
Julie & Julia
La La Land
The Lord of the Rings: The Fellowship of the Ring
The Lord of the Rings: The Return of the King
The Lord of the Rings: The Two Towers
New Amsterdam: Seasons 3 & 4
The Pursuit of Happyness
Spanglish
Spy Kids: All the Time in the World
Stepmom
Survivor: Season 32
Tyler Perry's I Can Do Bad All by Myself
Underworld
Avail. 2/2/23
Freeridge -- NETFLIX SERIES
Four teen friends work to reverse a curse after a peculiar old box seems to bring misfortune — and more — into their lives.
Avail. 2/3/23
Class -- NETFLIX SERIES
Three students from a poor neighborhood join an exclusive high school for Delhi elite where dark secrets and rumors ultimately lead to murder.
Infiesto -- NETFLIX FILM
As the coronavirus upends their lives, two detectives doggedly pursue those responsible for an abduction they realize is part of a sinister pattern.
Stromboli -- NETFLIX FILM
Haunted by memories of her broken marriage and a fight with her daughter, a woman joins an intense self-help retreat when her vacation goes awry.
Thomas & Friends: All Engines Go: Season 2
True Spirit -- NETFLIX FILM
When Jessica Watson sets out to be the youngest person to sail solo, non-stop and unassisted around the world, she must overcome her greatest fear as she navigates the world's most challenging stretches of ocean. Based on a true story.
Viking Wolf -- NETFLIX FILM
After witnessing a grotesque murder at a party in her new town, a teenager starts having strange visions and bizarre desires.
Avail. 2/4/23
Lyle, Lyle, Crocodile
Avail. 2/6/23
VINLAND SAGA: Season 2
Avail. 2/8/23
Bill Russell: Legend -- NETFLIX DOCUMENTARY
Featuring an interview with Bill Russell prior to his passing in 2022, Bill Russell: Legend is the definitive telling of the remarkable life and legacy of an NBA superstar and civil rights icon.
The Exchange -- NETFLIX SERIES
Inspired by real events, two women set out to pioneer the cutthroat stock market of 1980s Kuwait — and disrupt its corrupt boys club along the way.
MTV Floribama Shore: Season 1
Avail. 2/9/23
Dear David -- NETFLIX FILM
A straight-A high schooler's life is turned upside down when her risqué fantasy blog about her crush is leaked to everyone at school.
My Dad the Bounty Hunter -- NETFLIX FAMILY
An intergalactic bounty hunter takes dad duty to new extremes when his two kids accidentally hitch a ride with him to outer space and crash his mission.
You: Season 4: Part 1 -- NETFLIX SERIES
Starting anew in London, Joe vows to bury the past and be his best self. But on the rocky road to redemption, a new obsession starts to take hold.
Avail. 2/10/23
10 Days of a Good Man -- NETFLIX FILM
A lawyer turned private investigator takes on a missing person case, propelling him on an unexpected and life-altering quest.
Love is Blind: After the Altar Season 3 -- NETFLIX SERIES
Check in with this season's former fiancés, one year since their big decisions to get married or walk away single.
Love to Hate You -- NETFLIX SERIES
For an attorney who despises losing to men and an A-list actor who distrusts women, love means nothing — until they're forced to date each other.
Your Place or Mine -- NETFLIX FILM
When best friends and total opposites Debbie and Peter swap homes for a week, they get a peek into each other's lives that could open the door to love.
Avail. 2/13/23
Squared Love All Over Again -- NETFLIX FILM
A celebrity journalist and a down-to-earth teacher find their relationship in rocky waters when a job gets in the way of their new life together.
VINLAND SAGA: Season 2 (new episodes)
Avail. 2/14/23
All the Places -- NETFLIX FILM
Two siblings who haven't seen each other in 15 years mend their relationship while fulfilling a childhood dream: a motorcycle road trip through Mexico.
A Sunday Affair -- NETFLIX FILM
Lifelong best friends Uche and Toyin fall for the same complicated man, which tests their loyalty to each other as they face a heartbreaking revelation.
In Love All Over Again -- NETFLIX SERIES
Ever since they met, Irene and Julio have been falling in love, splitting up, and then trying again. Will they ever find their happy ending?
Jim Jefferies: High n' Dry -- NETFLIX COMEDY
Jim Jefferies is back for his fifth Netflix comedy special, High n' Dry and no topic is off limits. The comedian muses on stoned koalas, his dad's vasectomy confusion, choosing between his hair and his sex drive and more.
Pasión de Gavilanes: Seasons 1-2
Perfect Match -- NETFLIX SERIES
Couples who prove their compatibility gain the power to make or break other matches in this strategic and seductive dating competition.
Re/Member -- NETFLIX FILM
Six high schoolers stuck in a murderous time loop must find the scattered remains of an unknown victim to break the curse and finally see another day.
Avail. 2/15/23
#NoFilter -- NETFLIX SERIES
Bored with her studies, Marcely drops out of college to chase a new goal in life: becoming an influencer. But life online is harder than it looks…
African Queens: Njinga -- NETFLIX DOCUMENTARY
From Executive Producer Jada Pinkett Smith comes a new documentary series exploring the lives of prominent and iconic African Queens. The first season will cover the life of Njinga, the complex, captivating, and fearless 17th century warrior queen of Ndongo and Matamba, in modern day Angola. The nation's first female ruler, Njinga earned a reputation for her blend of political and diplomatic skill with military prowess and became an icon of resistance.
CoComelon: Season 7
Eva Lasting -- NETFLIX SERIES
A mysterious teen girl arrives at an all-boys school in 1970s Colombia, breaking stereotypes, rules... and a few hearts.
Full Swing -- NETFLIX DOCUMENTARY
This immersive documentary series follows a diverse group of professional golfers on and off the course across a relentless season of competition.
The Law According to Lidia Poët -- NETFLIX SERIES
Forbidden from practicing law, a woman prepares to fight the court's decision. Inspired by the true story of Lidia Poët, Italy's first female lawyer.
Red Rose -- NETFLIX SERIES
A ragtag crew of teens must survive a summer of terror after downloading an app that makes dangerous demands with deadly consequences.
Avail. 2/16/23
47 Meters Down: Uncaged
Ouija
The Upshaws: Part 3 -- NETFLIX SERIES
Still striving for success and surviving every mess, the Upshaws face a series of obstacles that put their resilience — and relationships — to the test.
Avail. 2/17/23
A Girl and an Astronaut -- NETFLIX SERIES
An astronaut's return after a 30-year disappearance rekindles a lost love and sparks interest from a corporation determined to learn why he hasn't aged.
Community Squad -- NETFLIX SERIES
A ragtag civilian patrol squad created to improve the image of the police force faces unexpected danger after stumbling on a drug trafficking operation.
Ganglands: Season 2 -- NETFLIX SERIES
Mehdi, Liana and Tony find their plans to leave Belgium thwarted by the arrival of a new enemy — one that forces them to ally with former foes.
Unlocked -- NETFLIX FILM
A woman's life is turned upside-down when a dangerous man gets a hold of her lost cell phone and uses it to track her every move.
Avail. 2/19/23
Whindersson Nunes: Preaching to the Choir -- NETFLIX COMEDY
It's the end of the world and he knows it. Whindersson Nunes reflects on current affairs, social media, religion and more in this stand-up special.
Avail. 2/20/23
Operation Finale
VINLAND SAGA: Season 2 (new episodes)
Avail. 2/21/23
Perfect Match -- NETFLIX SERIES (new episodes)
Avail. 2/22/23
Murdaugh Murders: A Southern Scandal -- NETFLIX DOCUMENTARY
The Murdaughs were one of South Carolina's most prominent families, but the death of teenager Mallory Beach in a drunken boating accident began the unraveling of their legacy. When Paul Murdaugh – the alleged driver of the boat – and his mother Maggie are found brutally murdered, a century of corruption, power, and cover-ups in the Low Country is brought to light.
The Strays -- NETFLIX FILM
A light-skinned Black woman's meticulously crafted life of privilege starts to unravel when two strangers show up in her quaint suburban town.
Triptych -- NETFLIX SERIES
After finding out she is one of three identical triplets, a relentless detective embarks on a perilous journey to uncover the truth about her past.
Avail. 2/23/23
Call Me Chihiro -- NETFLIX FILM
An unapologetic former sex worker starts working at a bento stand in a small seaside town, bringing comfort to the lonely souls who come her way.
Outer Banks: Season 3 -- NETFLIX SERIES
New adventures take the Pogues to the Caribbean and far beyond as the friends are pulled into a dangerous rival's hunt for a legendary lost city.
Avail. 2/24/23
Formula 1: Drive to Survive: Season 5 -- NETFLIX DOCUMENTARY
Drivers, managers and team owners live life in the fast lane — both on and off the track — during each cutthroat season of Formula 1 racing.
Oddballs: Season 2 -- NETFLIX FAMILY
James and his friends Max and Echo return for more soapbox rants, not-so-bright ideas and school shenanigans, bringing disaster back to Dirt, Arizona.
Married at First Sight: Season 12
Pokémon Ultimate Journeys: The Series: Part 2 -- NETFLIX FAMILY
With help from their friends and Pokémon partners, Ash and Goh get even closer to achieving their ultimate dreams.
The Real World: Season 12
We Have a Ghost -- NETFLIX FILM
Finding a ghost named Ernest haunting their new home turns Kevin's family into overnight social media sensations. But when Kevin and Ernest go rogue to investigate the mystery of Ernest's past, they become a target of the CIA.
Who Were We Running From? -- NETFLIX SERIES
Harboring a painful past, a mother lives like a nameless fugitive with her daughter as they make hotels their home and see everyone else as a threat.
Avail. 2/27/23
VINLAND SAGA: Season 2 (new episodes)
Avail. 2/28/23
A Whole Lifetime with Jamie Demetriou -- NETFLIX COMEDY
A womb with a view. Awkward adulthood. The not-so-golden years. Journey through life's stages with Jamie Demetriou in this musical sketch-comedy special.
American Pickers: Season 15
Perfect Match -- NETFLIX SERIES (new episodes)
Too Hot to Handle: Germany -- NETFLIX SERIES
Ten gorgeous singles meet in a tropical paradise. Little do they know that to win the €200,000 prize, they'll have to completely give up sex.
The Random Movies That Are Inexplicable Hits On Netflix Around the World
These old, random, or flat-out bad films appear in the Netflix Top 10 most-watched movies in many countries around the world.