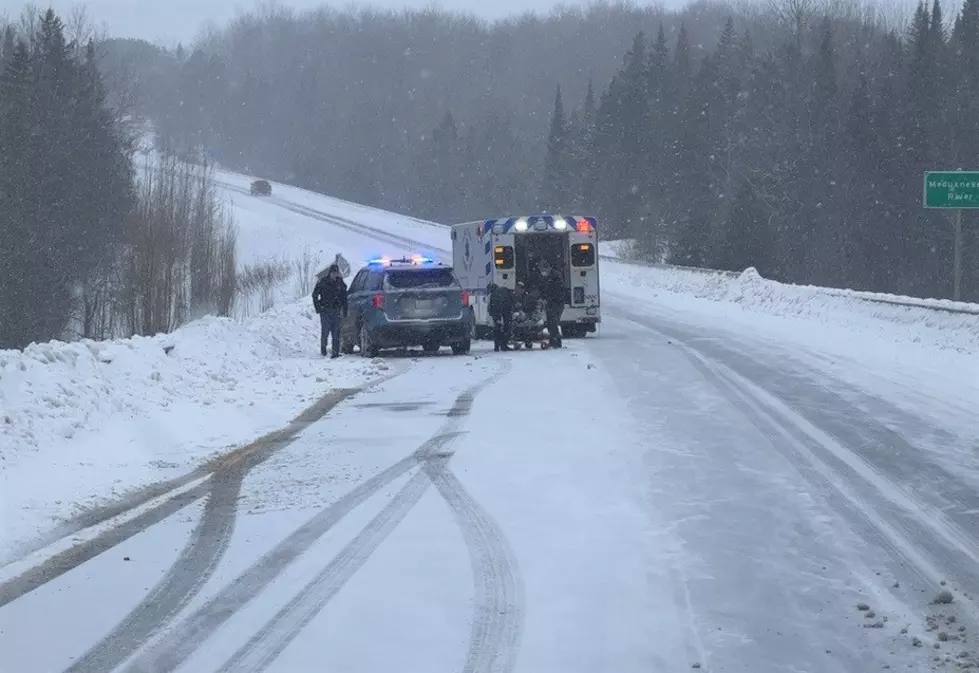 New Brunswick Man Seriously Injured in Crash on I-95 in Houlton, Maine
Maine State Police - Troop F
Police say an 88-year-old New Brunswick man was seriously injured early Sunday afternoon in a rollover crash on Interstate 95 in Houlton.
Corporal Dennis Quint and Trooper Noah Castonguay of the Maine State Police along with Houlton Ambulance personnel responded to the crash around noontime. Ervin Carter of Elmwood, N.B. was heading south on I-95 when he lost control of his 2010 GMC Sierra pickup, according to a news release from Corp. Quint.
New Brunswick man's pickup rolled several times before landing upright in median
Carter's truck crossed both lanes of travel before going up onto the snow bank and over the guardrail, Quint said. The vehicle then spun 180 degrees and rolled over several times down a steep embankment and into the trees in the median. Carter was wearing his seat belt.
State Police say the crash was not visible from the roadway. The man was able to crawl up the embankment where he was seen by another motorist who reported the crash.
Carter suffered "serious but non-life-threatening injuries" and was transported to Houlton Regional Hospital, Quint stated.
Newly fallen snow may have been a factor in I-95 crash
The crash occurred near mile marker 303. It was snowing at the time and police say the deteriorating conditions were a factor.
The Maine Department of Environmental Protection was contacted due to spilled fuel and the proximity to the Meduxnekeag River. The vehicle was removed by Bailey's Towing and Recovery of Houlton.
The left lane of I-95 southbound was closed for about three hours Sunday while the truck was removed from the median.
Elmwood, N.B. is just across the border from Hodgdon, Maine in neighboring Carleton County.
10 Actors Who Adopted Animals From Movie And Sets
Popular Child Stars From Every Year
Below,
Stacker
sifted through movie databases, film histories, celebrity biographies and digital archives to compile this list of popular pint-sized actors from 1919 through 2021.