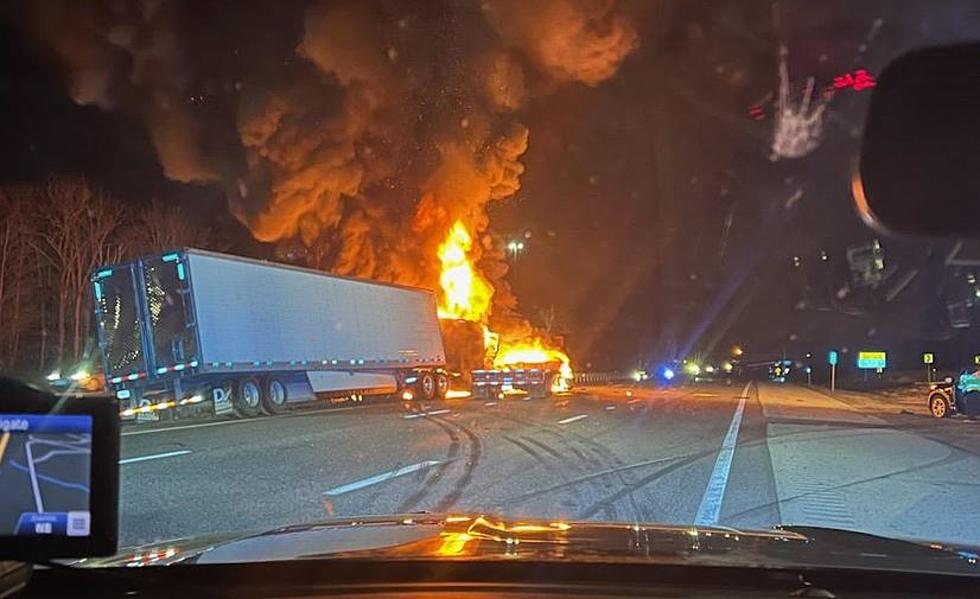 Two Tractor-Trailers Crash & Catch Fire on I-95 in Maine
Maine State Police
Two tractor-trailers caught fire, and one man was sent to the hospital after two crashes involving three vehicles on I-95 Thursday night in Saco.
Two Tractor Trailers Catch Fire in Crash
According to Shannon Moss, Public Information Officer, Maine Department of Public Safety, a Ford Explorer tried to take Exit 36 at the last minute and cut off & collided with a flatbed truck. The truck went into the median of the Interstate and was hit by a box truck. Both trucks caught fire.
SUV Driver Taken to Hospital
The driver of the Ford, 50-year-old Fidele Kaderi from Biddeford was taken to the hospital with non-life threatening injuries. Both drivers of the trucks were not injured in the crash.
Parts of I-95 Shut Down for Hours
Officials shut down the southbound lanes of I-95 for close to 4 hours. Traffic was open again around 3 am on Friday morning. The northbound lanes were also shut down, but reopened quickly, said Moss.
Fire Crews Extinguish Fires
Both the Saco Fire Department and the Scarborough Fire Department were on the scene to put out the fires. The investigation is ongoing and charges may be pending.
READ MORE: Washburn Woman Arrested for Federal Warrant, Drugs & Stolen Property
ALSO READ: Two Men & One Woman Arrested after Large Amount of Fentanyl, Meth, Crack Seized
LOOK: Here are the states where you are most likely to hit an animal
Hitting an animal while driving is a frightening experience, and this list ranks all 50 states in order of the likelihood of such incidents happening, in addition to providing tips on how to avoid them.
QUIZ: Can you identify 50 famous companies by their logos?
How well do you know the logos of 50 of the world's most famous companies? Keep scrolling to see if you can guess which icon belongs to which brand.