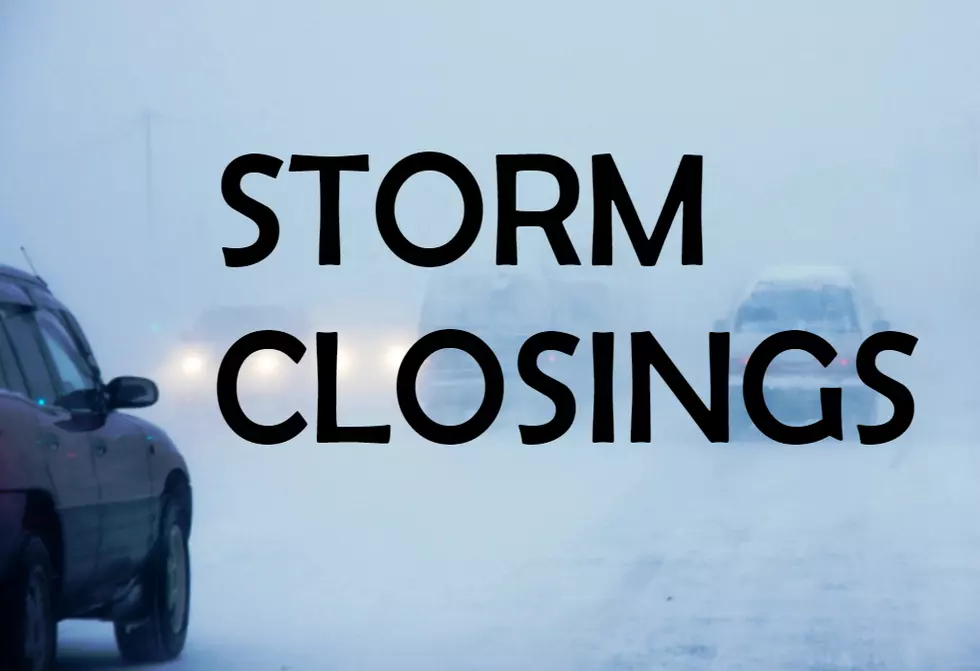 Storm Closings & Cancellations For Thursday, January 4th
Thinkstock
With blizzard conditions forecast for much of Aroostook County and western New Brunswick by late in the day Thursday, here's a look at the latest storm closings:
Van Buren (MSAD 24) - All after-School activities are cancelled Thursday.
All Northern Lighthouse Offices are closing at 3 p.m. today
Washburn area schools (RSU 45) - closing at 11:30 today (Thursday)

MSAD1 (Presque Isle, Mapleton, Chapman, Castle Hill, Westfield) - closing at 11:30 a.m.
Ashland schools (SAD 32)  closing at 11:30 a.m.
Caribou and Limestone Schools (RSU 39) - getting out at noon
Fort Fairfield (MSAD 20) closing at 11:30 a.m.
Woodland School (School Union 122) closing at 11:45 a.m.
Easton Schools sending students home at 11:30 today.
Mars Hill area schools (RSU 42) closing at noon
Houlton Schools (RSU 29) dismissing students at 11:30 a.m. Pre-K will be dismissed at 10:15.
Hodgdon Schools (MSAD 70) will be dismissing students at 11:30 this morning
Greater Houlton Christian Academy dismissing at 11:30 a.m.
RSU 50 (Southern Aroostook/Katahdin schools) are closed today.
University of Maine at Presque Isle - closing at 12 p.m. Thursday (Including the Houlton Center).  UMPI  will delay opening until 10 a.m. Friday.
Region 2 School of Applied Technology in Houlton is closed today.
MSAD 1 Adult Education- closing at noon.
Autism Intervention in Woodstock, NB closing at Noon
East Grand Health Center is closing at 12:30 on Thursday. Possible delay Friday morning.
Katahdin Trust Company's branch offices located in Bangor, Hampden and Scarborough will be closing at noon Thursday due to the weather. Please note that all other Katahdin Trust offices will be closing at 3pm Thursday. Tomorrow, January 5, all Katahdin Trust branches will open at 12:00 noon.
The County Federal Credit Union will be closing this afternoon at 2:30 pm and reopening tomorrow at 12 pm.
Due to the inclement weather, all ACAP locations will close at 3:00 p.m. today - Thursday, January 4, 2018
Canadian Tire is closing early Thursday at 4:30 pm (Atlantic time). We are starting to send people home now at 4 pm Atlantic time.
-------------------------------------------------------------------------------
All Maine State Government Offices are closed today (Thursday, January 4) due to the impending storm.
All Aroostook County Courts will close at 11 a.m. today. The courts will remain closed all day Friday; grand jury to report at Caribou on January 19th.
All branches of the Bangor Savings Bank (statewide) will be closing at 11:00 AM.
Machias Savings Bank will be closing at noon today due to the storm
Aroostook Band of Micmacs Offices in P.I. - closing at noon.
The Central Aroostook Humane Society will be closing at noon
Mapleton Town Office - closing at 1 p.m.
Westfield Town Office is closed Thursday.
Caribou City Office  - closing at 1 p.m.
Fort Fairfield Public Library - closed at 1 p.m.
The MicMac Service Unit and Water Lab in P.I.  is closing at 2 p.m.
All-Star Gymnastics in P.I. and Houlton will not be having classes today
The Patten Rec Center has cancelled all activities Thursday
--------------------------------------------------------------------------------
Thursday's Presque Isle boys' basketball games at Orono have been postponed to Monday, Jan. 8th.
Today's Katahdin vs. Easton girls' game has been postponed and moved to Tuesday, Jan. 16th.
The Houlton at Presque Isle girls' basketball game, has been postponed and will be made up tomorrow (Friday, Jan. 5)
Tonight's boys and girls varsity basketball games in Washburn against Ashland have been postponed until Monday, January 15.
The hockey game tonight for Woodstock High School vs. Carleton North High School has been cancelled.
Friday's Nordic Ski meet in Madawaska has been canceled due to expected heavy snowfall and cold wind chills.
The Alpine Ski meet scheduled for Saturday, January 6 at Big Rock has been canceled due to the predicted cold temperatures.
This listing will be updated throughout the day today.
Storm Cancellations brought to you by: