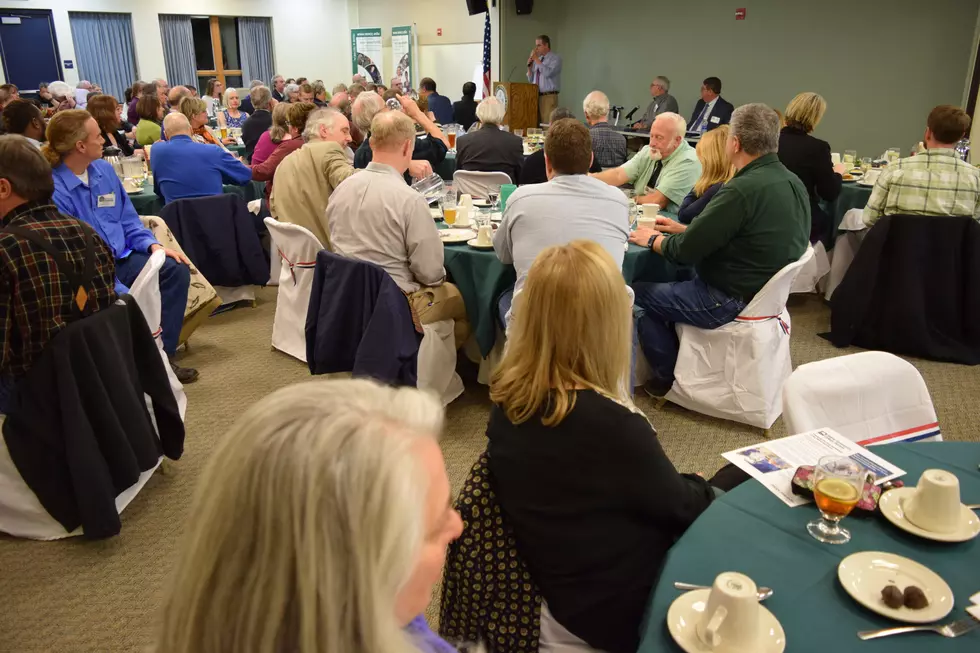 Northern Maine Community College Hosts Traveling Legislators
NMCC
About 100 legislators, members of the Maine Development Foundation, and local leaders gathered at Northern Maine Community College to discuss health care issues and the economic challenges and opportunities facing Aroostook County.  
The gathering at NMCC was part of a bus tour sponsored by the Maine Development Foundation to help lawmakers become acquainted with The County. The Foundation and community members hope the on-site visit will inform legislative decisions in Augusta.
Following a reception and dinner at the College, a final evening meeting was conducted. Northern Maine Community College President Tim Crowley moderated the panel and opened with brief comments about how well the area higher education facilities work together to find affordable pathways for students to move from two-year degrees at NMCC to baccalaureate degrees at the University of Maine at Fort Kent and Presque Isle. But he made a plea to legislators to work toward making graduate education degrees available in Aroostook.
On the panel was Michael Kelley, Executive Vice President of Machias Savings Bank, who has been in the banking industry for more than 40 years. He offered advice to lawmakers.
"Try to look past party lines. Approach your work with the goal of what will most
effectively help the people of Maine. And always be respectful of how you handle
someone else's hard-earned money."
Gary Voisine, of Voisine Bros. Inc. of Fort Kent, a veteran logger, told legislators to be thoughtful of the state's forestry industry, which is responsible for one of every 20 jobs in Maine. Voisine said the logging industry is facing an aging workforce and difficulties with the cost of insurance.
"We need to remove the regulatory barriers that prevent loggers from shopping for
insurance…one of the most expensive parts of doing business. It's hard to keep our
costs reasonable when the insurance industry has limited competition. We could use
legislative help."
This information was submitted to us as part of a press release. If you would like to share your community news or event with our audience, please email newspi@townsquaremedia.com.