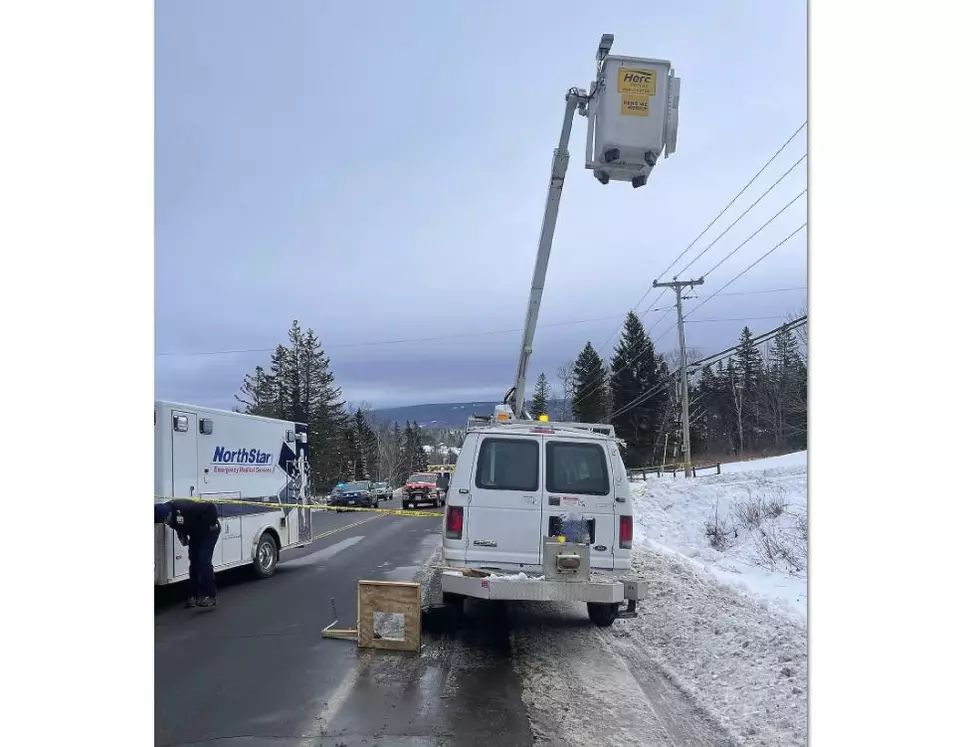 Man Dies After Fall from Bucket Lift in Rangeley, Maine
Maine Dept. of Public Safety
Officials say a utility worker died Tuesday morning after falling from a bucket lift in the western Maine town of Rangeley.
Franklin County Dispatch received a 911 call shortly before 11:00 a.m. reporting that a man had fallen out of a bucket truck on Main Street in Rangeley, according to Shannon Moss of the Maine Department of Public Safety.
Rangeley Police, Rangeley Fire Dept. and NorthStar Ambulance were dispatched to the scene.  Despite medical aid from paramedics, the man was pronounced dead on site, Moss said.

Police say man was in the bucket lift while the truck was in motion
Maine State Police were contacted to assist in the investigation. State Troopers were able to determine that the Ford Econoline van equipped with a bucket lift was traveling south on Main Street when the bucket struck a set of utility wires suspended across the road. The victim was believed to be in the bucket when it struck the wires, Moss said.
Police later identified the victim as 24-year-old Danila Belov of Brooklyn, New York.
The driver of the van, 31-year-old Anton Natachiev of Brooklyn, NY was not injured. Both men were working as subcontractors for Consolidated Communications.
Maine State Police and the Maine Department of Labor are investigating the fatal incident.
State Troopers were assisted Tuesday by Rangeley Police, Franklin County Sheriff's Office, Rangeley Fire Dept., NorthStar Ambulance, Maine Dept. of Transportation and Central Maine Power Company. Main Street in Rangeley was closed for about five hours while emergency crews worked the scene.
This article will be updated as we receive new information.
11 Necessities for Someone Experiencing Their First Winter in Maine