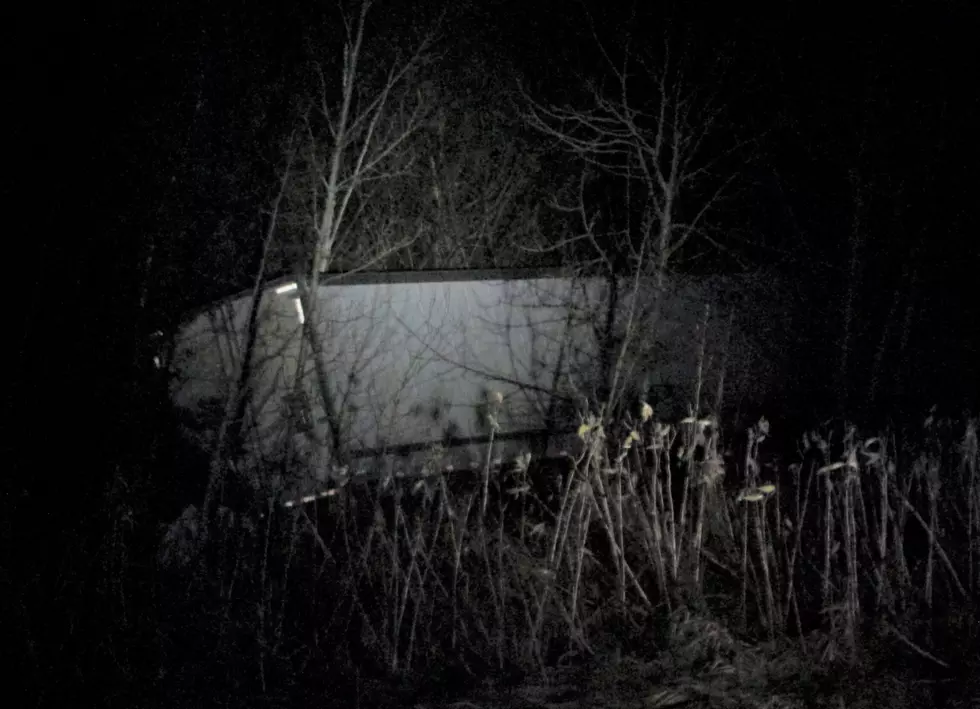 Crash on I-95 in Southern Aroostook County Shuts Down Northbound Lanes
Maine State Police
A tractor-trailer crash on Interstate 95 in southern Aroostook County late Thursday night shut down the highway for several hours and the cleanup continued Friday morning.

Maine State Police report 42-year-old Dmitrii Vasilev of Moncton, New Brunswick was traveling north on I-95 in Ludlow around 10:05 p.m. Thursday when he swerved to avoid a moose.
Vasilev was operating a 2016 Volvo tractor trailer unit hauling paper products. The rig left the roadway, traveled into the median and struck several trees, according to Cpl. Nick Casavant.
Vasilev was not injured in the crash but the tractor trailer sustained significant damage, Casavant said.  I-95 was reduced to one lane near mile marker 294. The area is about eight miles below Houlton.

The northbound lanes of the highway were completely shut down for several hours Friday while Westerdahl's Towing removed the truck and trailer.
State police said speed was not a factor. Trooper Tim Saucier investigated the crash.  The Maine Department of Transportation was also on scene.
Most Common Crimes To Watch Out For During the Holiday Season in Maine
The holiday season brings lots of cheer but also brings crime and these are the most common crimes that you should watch out for during the holiday season in Maine.
20 Great Christmas Gift Ideas for Your Maine Mom that Aren't Lame
Buying for Mom can be challenging, so I've come up with 20 ideas that aren't lame and she might actually really love.