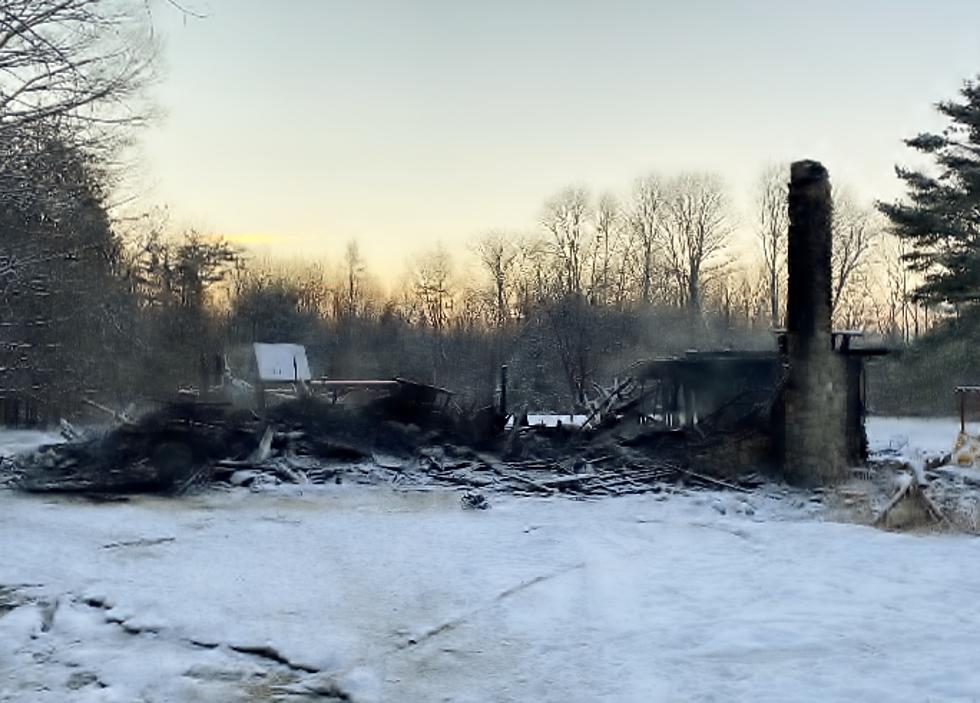 Two People Injured in Residential Fire and Explosion in Palmyra, Maine
Maine Dept. of Public Safety
Two people suffered burn injuries Tuesday night after a fire and explosion destroyed a home in Palmyra, just west of Bangor.
The Palmyra Fire Department and EMT's responded to the home on Meadow Lane just before 8 p.m., according to Shannon Moss, Public Information Officer for the Maine Department of Public Safety.
Five people were inside the house at the time of the fire and were able to escape. Two of them received burn injuries and one had to be hospitalized, Moss said.

The house, situated near Sebasticook Lake, was a complete loss. There's no word yet on the cause of the blaze.
A team of investigators from the Maine Fire Marshal's Office was called in around 8:30 p.m. They returned Wednesday to process the scene and continue their investigation. Fire Marshal investigators were assisted by Maine State Police and Somerset County Sheriff's Office.
Palmyra Fire Department received mutual aid from Hartland, St. Albans, Canaan, Corinna, Detroit, Newport and Dexter Fire Departments.
Also assisting on scene was Newport Ambulance and Clinton Rescue.
We'll have more information as the investigation unfolds.
13 Movies Filmed in Maine
Maine is not new to Hollywood. Many movies have been filmed in Maine since 1956.
16 Stories from Maine that Turned Up in News Across the Country
Whether they were happy or historical events, sad or tragic, these 15 Maine stories grabbed the nation's attention.