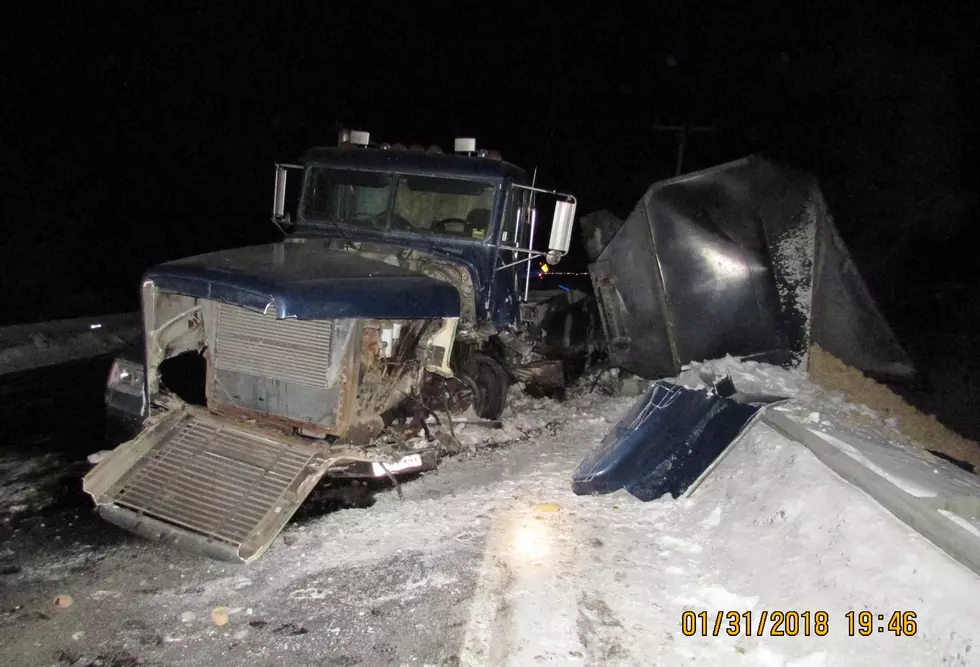 Potato Truck Strikes Flatbed Trailer on Route 1A in Mars Hill
Maine State Police - Troop F
No one was injured after a bulk body potato truck struck a tractor trailer that was backing onto Route 1A in Mars Hill Wednesday night. 
Maine State Police say 62-year-old Robert Craig of Mars Hill was driving a tractor trailer hauling a flatbed trailer partially loaded with lumber. Craig had pulled into Kearney Pallett, Inc., and was backing up into the road to adjust his truck's position to pull ahead into the driveway, according to Trooper Adam Stoutamyer.
At the same time, 30-year-old Ryan Hallett of Houlton was driving a loaded bulk potato truck north on Route 1A and was traveling on a right hand curve. Hallett attempted to swerve to the right side of the road to avoid a collision, but he could only swerve so far because there was a guardrail on that side of the road.
Police say the potato truck struck the rear of the trailer which caused significant damage to the underside of Hallett's truck. The potato truck then hit the guardrail on the right side of the Route 1A, traveled across the road and struck the guardrail on the other side. The impact caused the bulk body to roll over the guardrail and the load of potatoes was dumped down onto the embankment.
The Department of Environmental Protection was called in due to the motor vehicle fluid that leaked onto the roadway, and for the spilled potatoes. Route 1A was restricted to one lane off and on for about 45 minutes to clean up the road and remove the vehicles.
The Aroostook County Sheriff's Office also responded to the scene. Police say both drivers were wearing seat belts and neither was injured in the crash.