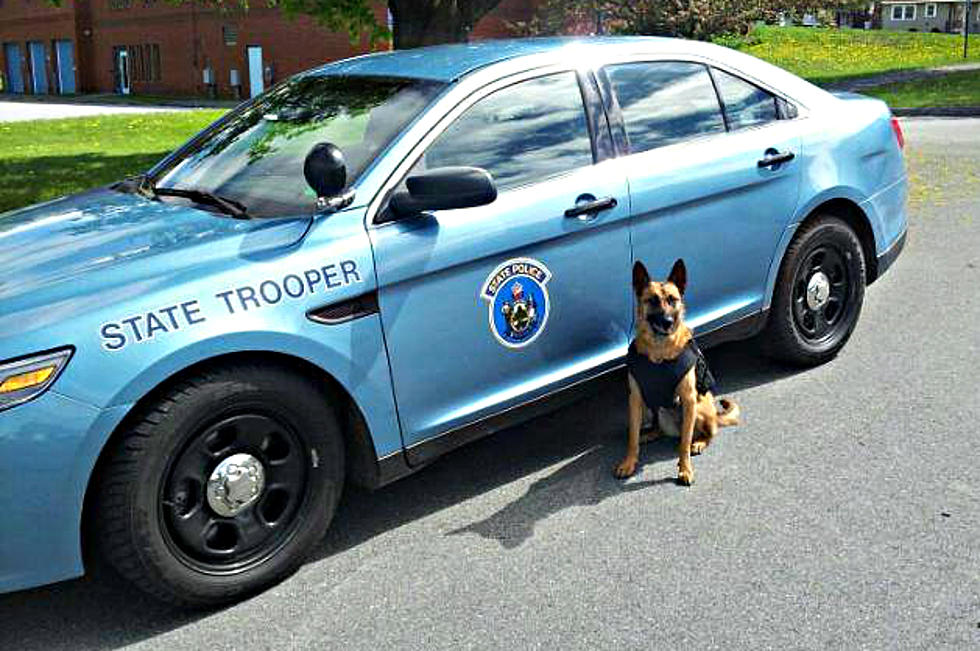 Maine State Police Troop 'F' Weekly Report (June 25 – July 1)
Maine State Police/facebook
Troop F of the Maine State Police responded to 138 calls for service this past week in and around Aroostook County. Here is a sampling from the Troop's weekly report:
Incident Type: BURGLARY Date: 6/27/2018 Town: MARS HILL Trooper: TR. STOUTAMYER Brief Synopsis: Tr Stoutamyer responded to a residence in Mars Hill after receiving a report that a female had broken into the C1's house. This female was on probation for similar behavior. Tr Stoutamyer located the female suspect and arrested her for burglary after discovering that she had taken 31 prescription pills and then transported her to Aroostook County Jail.
Incident Type: OAS Date: 6/27/2018 Town: PATTEN Trooper: TR. ADAMS Brief Synopsis: Tr Adams was patrolling in Patten and he noticed a vehicle that he recognized and Tr Adams knew that the owner was under suspension. Tr Adams parked and observed the male subject drive past him. Tr Adams stopped the vehicle and summonsed the male for OAS.
Incident Type: OAS/ WARRANT ARREST Date: 6/27/2018 Town: STACYVILLE Trooper: TR. ADAMS Brief Synopsis: Tr Adams was on patrol in Staceyville and observed a vehicle that had no front plate and no inspection sticker on it. Tr Adams conducted a traffic stop then discovered that the female operator was under suspension and had an active warrant for failing to pay fines. Tr Adams arrested her and transported her to Medway, where Troop E relayed her to Penobscot County Jail.
Incident Type: OAS Date: 6/27/2018 Town: MONTICELLO Trooper: CPL. MICHAUD Brief Synopsis: Cpl. Michaud cited a Monticello man for Operating After Suspension. The subject was stopped for an expired inspection sticker as well as operating with studded tires. This was the man's second citation this year as he was cited by Sgt. Haines earlier this year.
Incident Type: TRAFFIC COMPLAINT Date: 6/28/2018 Town: MEDWAY Trooper: CPL. MICHAUD Brief Synopsis: Cpl. Michaud received a complaint from a bridge maintenance crew regarding over width loads traveling through the construction zones on I-95 in Sherman and Medway. The crew was able to film the load of trusses going through the construction zone in the early morning hours. Cpl. Michaud has worked to identify the company and driver and is working with all parties to rectify the situation and prevent further violations and will be summonsing the operator for violation of the permit. It appears that the company had valid permits to move the loads but the driver was ignoring the permitted route and traveling through the construction zone.
Incident Type: ACCIDENT - SERIOUS INJURY Date: 6/27/2018 Town: ISLAND FALLS Trooper: TR. SYLVIA Brief Synopsis: Christopher Allen, 30 of Sherman was traveling South on interstate 95 in Oakfield driving his 2005 Ford Focus when he stuck a moose that ran into the roadway. After hitting the moose, Allen was then struck from behind by a 2010 Peterbuilt tractor trailer operated by Freddie Brown, 60 of Woodland. Brown was also southbound on Interstate 95 and was behind Allen as Allen hit the moose. Brown attempted to avoid Allen by going off into the ditch, but was not able to avoid Allen's vehicle. Allen and his passenger, 35-year-old Jessica Price, were transported for non-life threatening injuries to the Houlton Regional Hospital by the Houlton Ambulance Service. Brown was not injured. Allen's vehicle is considered a total loss and was towed from the scene by York's of Houlton. Brown's tractor trailer, which is owned by ROLLINS TRANSPORT LLC of Limestone, was towed from the scene by Westerdahl's Towing with significant damage.
Incident Type: OUI Date: 6/29/2018 Town: FRENCHVILLE Trooper: TR. DESROSIER Brief Synopsis: While conducting traffic enforcement, Tr. Desrosier observed a vehicle traveling at a high rate of speed on Rt. 1 in Frenchville. Tr. Desrosier clocked the vehicle's speed using his radar locking the speed at 78 mph in a posted 45 mph zone. During Tr. Desrosier's interaction with the operator he suspected that the man was under the influence of alcohol. Tr. Desrosier conducted SFST's and determined that the operator was impaired. Tr. Desrosier arrested that man and transported him to the Fort Kent PD where he administered a breath test. Tr. Desrosier charged the man with OUI, Criminal Speed, and Driving to Endanger.
Incident Type: THEFT Date: 6/29/2018 Town: EASTON Trooper: TR. KILCOLLINS Brief Synopsis: Tr. Kilcollins responded to a residence in Easton for a theft of services complaint. A male called a taxi to take him from Easton to Chapman and back to Easton that totaled $55.00 in taxi fare. The man walked into the house and did not return. Tr. Kilcollins arrived on scene and the man stated that his girlfriend would be home soon with the money. Tr. Kilcollins charged the man with theft of services.
Incident Type: WARRANT Date: 6/30/2018 Town: BRIDGEWATER Trooper: TR. KILCOLLINS Brief Synopsis: Tr. Kilcollins and Tr. Levesque responded to a residence in Bridgewater for a man that called reporting that there was an unwanted man and woman inside his residence. The woman had an active warrant for her arrest. The victim stated that the man had threatened him in the past and he has been coming in and out of the house uninvited. Tr. Kilcollins arrested the woman on her warrants and the man was trespassed from the property.
Incident Type: DISORDERLY CONDUCT Date: 6/30/2018 Town: HOULTON Trooper: TR. DUFF Brief Synopsis: Tr. Duff was assisting Tr. Kilcollins with locating a man to check his well-being. Tr. Duff located the man at a friend's apartment in Houlton. The apartment owner was verbally abusive and was not allowing Tr. Duff to conduct his investigation. Tr. Duff saw the man attempt to hide drug paraphernalia and detained the man by placing him in handcuffs so he could finish his investigation. Officers from Houlton PD and USBP arrived to assist. Tr. Duff released the man once the well-being check was completed and attempted to explain the reason that he had to be detained. The man continued to be verbally abusive and it was very difficult to reason with the man. The man was given a disorderly conduct warning before the officers left the scene. Soon after the HRCC received a call from a neighbor reporting that the man was standing in the street yelling. Tr. Duff returned to the scene and placed the man under arrest for disorderly conduct. Tr. Duff transported the man to jail and charged him with Disorderly Conduct and refusing to sign USAC. The man's bail was set at $500 cash.
Troop F of the Maine State Police is responsible for Aroostook County and the extreme northern sections of Somerset, Piscataquis and Penobscot counties.