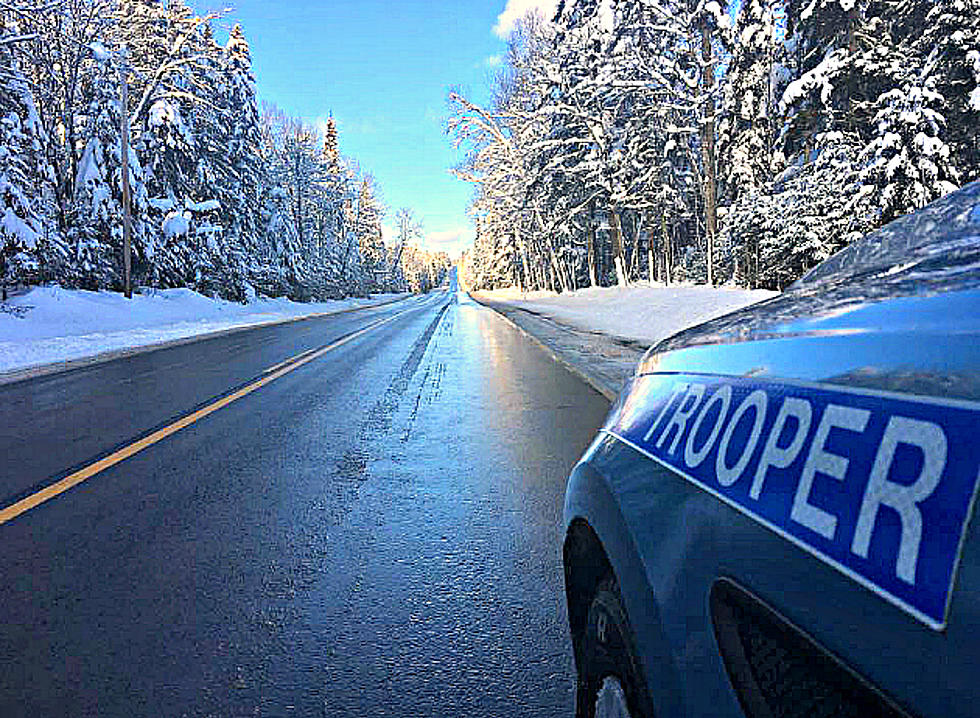 Maine State Police Briefs from Troop F – January 9-15
Maine State Police - Troop F
Here is a record of some of the activity of Troop F of the Maine State Police during the week of January 9th – 15th, 2023. Summaries may be minimally edited.
State Police investigate shoplifting incident at Island Falls grocery store
On January 14th, Trooper Saucier took a shoplifting complaint from a local grocery store in Island Falls. The 18-year-old female suspect was caught on surveillance video stealing an item from the grocery store. Once located, the female will be summonsed for theft.
Trooper confiscates firearm from known felon in Woodland
On January 12th, Trooper Rider went to an address in Woodland to serve a protection order on a man that he knew was a felon. The order had a weapons restriction clause and while serving the order a rifle was confiscated. The man was issued a criminal summons for possession of the weapon as a prohibited person.
Man issued a criminal summons for trespassing at a business in Patten
On January 12th, Corporal Quint investigated a trespassing complaint in Patten.  A man, who had been issued a no trespassing notice, returned to the business and was disruptive to the other patrons. The man left before Cpl. Quint could arrive. He was later located at his residence and issued a summons for criminal trespass. The man was told to not return to the business in the future.
K9 search in Woodland uncovers methamphetamine in plastic bin
On January 12th, Trooper Levesque responded to Woodland for a K9 article search. K9 Rocco gave indication on a plastic tote indicating drugs were present. A search of the tote revealed a usable amount of methamphetamine.
22-year-old man charged with criminal speeding on I-95 in southern Aroostook
On January 10th, Trooper Sylvia stopped a 22-year-old male on interstate 95 in Ludlow for speeding. The male was caught on radar at 122 MPH and was charged accordingly.
Woman arrested at vacant home in Van Buren on active warrants
On January 9th, Trooper Desrosier was driving through Van Buren and observed a suspicious vehicle at residence that has been vacant for a long time. Trooper Desrosier stopped to investigate and found that the woman had permission from the homeowner to store some of her things in the garage. During a computer query of the woman, it was found she had three active warrants. The woman was arrested, could not post bail, and was brought to the Aroostook County Jail in Houlton.
Earlier this month. . .
Police charge driver with OUI after crash in E Plantation
On January 7th, Corporal Kilcollins responded to a crash on E Plantation Road in E Township. At the scene, Cpl. Kilcollins found a male who was slumped over the steering wheel. Cpl. Kilcollins opened the door of the pickup and attempted to wake the male. The male came to and was offered medical attention but refused. After a roadside investigation, Cpl. Kilcollins placed the male under arrest for Operating Under the Influence. The male was found to be under the influence of drugs and was charged with Operating Under the Influence of Drugs. The male was on probation, a probation hold was put on him and he was transported down to the Aroostook County Jail.
Driver pulled over in Caribou for travelling nearly twice the posted speed limit
On January 4th, Trooper Roy was conducting traffic enforcement in Caribou when he observed a vehicle driving 83 mph in a posted 45 mph zone.  Trooper Roy initiated a traffic stop on the vehicle and during his investigation, the driver stated it was a rental car and he was not familiar with driving that type of car.  Trooper Roy reduced the speed from criminal to a traffic infraction and issued a traffic summons for speeding to the man.
Trucker drives off from Oakfield gas station after $354 fill-up
On January 2nd, Trooper Merchant received a complaint reference to a fuel drive-off at the Oakfield Irving. The manager of the store called to advise they just had a fuel drive-off by an empty log truck of $354 in fuel. They advised they did not believe the fuel drive-off was done on purpose. They advised the man hung around the store for over 40 minutes after pumping the fuel.
CLICK HERE FOR EARLIER TROOP F REPORTS
Troop F is responsible for Maine State Police coverage for all of Aroostook County and the northern parts of Penobscot, Piscataquis and Somerset Counties. The Commanding Officer is Lt. Brian L. Harris, who provided the information above.
10 of the Deepest Lakes and Ponds in Maine
With 6,000 lakes and ponds, Maine has A LOT of freshwater shoreline. Some are densely populated in the summer months, while others are as remote as the wilderness that surrounds them. They're home to Maine's thriving gamefish populations, which calls-in anglers from all over the country. Ever wondered which of these lakes are the deepest in the state? We checked-over depth charts and topographic maps to find the 10 deepest lakes in Maine, as according to their maximum depth.
25 Endangered Animals in Maine