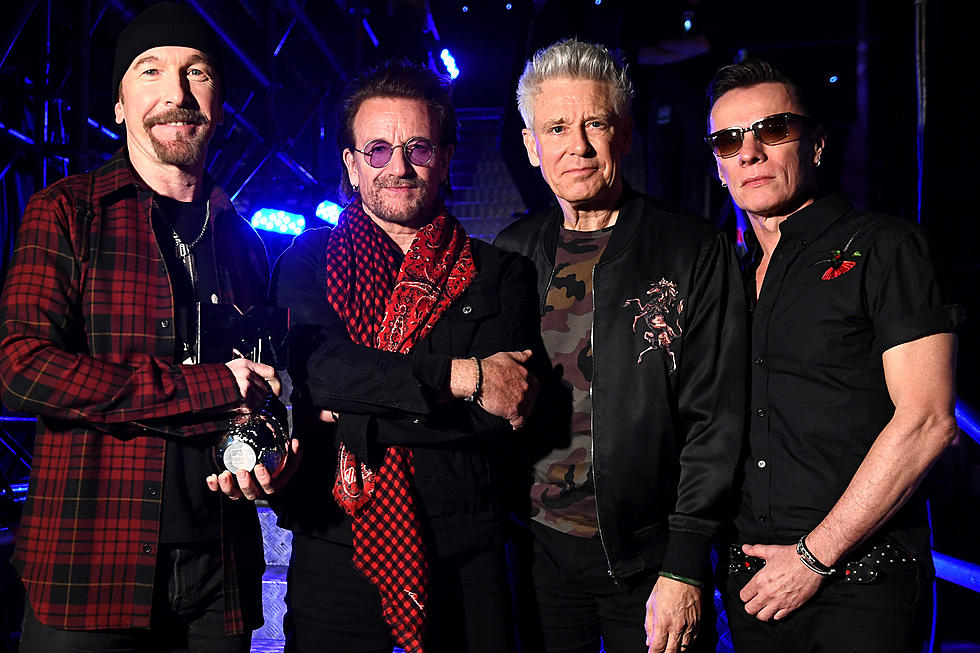 U2 'Songs of Experience' Review Round-Up
Ian Gavan, Getty Images
Yesterday, U2 released the long-awaited Songs of Experience, the follow-up to 2014's Songs of Innocence. We've collected highlights from some of the reviews we're read in order to present a balanced portrayal of what people are saying about it.
Rolling Stone's four-and-a-half-star review draws a link to its previous works. "Earlier U2s flash by, like the streaming of a greatest-hits album: the Pop-like contradiction of boogie nights and apocalypse now in 'The Blackout'; the echo of The Joshua Tree's shadows and spaces in 'The Little Things That Give You Away.' The mounting effect is a charge of dynamic moods and a still-certain mission."
The harshest review came from the A.V. Club: "Songs of Experience, U2's 14th studio album, revs up the ambition to embarrassing results. It finds the group desperately searching for a radio hit while pontificating on American exceptionalism, shoehorning the Syrian refugee crisis into not one but two love songs—and on consecutive tracks, no less. It even features Bono's first on-album use of a vocoder (surely eliciting cracks of 'Bono Iver' from the cheap seats). It is the product of a band giving too many f---s."
So, as with judging gymnastics, we've gotten the best and worst out of the way, and let's see where that's left us. Well, it's mostly a whole lotta "meh," recognizing that there are high and low points, but mostly nothing that holds up against their definitive work. Although they all heard plenty of good songs (even if there was no consensus about what these are), the amount of time U2 spent thinking about, and fine-tuning, every detail ultimately stripped the record of its power.
Our sister site Ultimate Classic Rock notes, "Songs of Experience, like the past few U2 records, is another U2 album that U2 think their fans want. That doesn't mean Songs of Experience is a terrible or even a bad record. It just isn't very memorable. ... The emotional reach and payoff, key elements to U2's success, aren't there for the most part – even though everyone, including the album's long list of producers, works overtime to polish the 13 songs to modern-day specifications while still nodding to the band's past. After all these years, there's simply too much baggage for U2 and any new music they make, and lightening the load seems moot at this point."
Consequence of Sound hated one of the tracks that caused Rolling Stone to gush. "U2's approach towards its follow up feels conciliatory. ... On 'The Blackout,' U2's worst song of the century, if only for Bono's maddening attempt to force random names into the verses, the singer raves about the downfall of democracy with apocalyptic fervor resulting in a muddled mess."
Still, they admired the effort, if not the overall result: "It's a messier albeit more visceral affair than Songs of Innocence, one not afraid to take risks and fall flat on its face, but the triumphs are few and far between. And for a band that was once such a vital institution, that disparity is a tough place to be in."
The Guardian is quick to point out the record's flaws. "If you were looking for a symbol of U2's latter-day struggles, then Songs of Experience seems an ideal candidate, they write. "There are clumsy lunges for contemporaneity ... and moments when you can hear the effort that's gone into trying to make the songs 'bulletproof,' as the Edge recently put it, but somehow had the opposite effect."
But they also note that it rises above those issues: "Songs of Experience is an audibly better album than either of its predecessors. ... when U2 calm down and allow themselves to be themselves, the results are frequently fantastic."
Even The Atlantic, a magazine known more for its political commentary than its record reviews, has something to say. "U2 has, for more than 30 years, been pop's savviest provider of can-do uplift, but Songs of Experience reaches a new level: reckless cheer. ... Yet set aside the feeling that you're being condescended to, and the suspicion that reflexive optimism often simply endorses complacency, and you can appreciate some of the lab-perfect hugeness here."
"Bono may wrestle with big themes in his lyrics but his ambitions are reined in by a production that seems afraid of alienating any constituent," said AllMusic. " With all these hands, it's not much of a surprise that Songs of Experience feels diffuse, its modernist moments -- like Bono embracing pitch-shifted vocals -- counterbalancing feints toward U2's arena rock past. It all feels so familiar, it takes a moment to realize that the echoes of the Edge are muted, that the rhythms are sometimes constrained by tight sequencing, that the glossy surface can sometimes recall Ellie Goulding, or how when the tempo slows, it feels like U2's greatest aspiration is to be as graceful as Coldplay. All this adds up to an album that feels vaguely desperate. Say what you will about the muddled Pop: at least it had an ethos. Here, U2 feel trapped between their history and the pull of the year, and they wind up seeming diminished. For the first time, they seem smaller than life."
NME were similarly underwhelmed. "It's just as anodyne as their previous iPhone clogger," they said, adding that it "resembles a pastiche of other bands' tame U2 pastiches.
But NPR was a little more positive: "U2 is at its most convincing when it has a mountain to climb," they write. "This time, the mountain is of the band's own making and involves erasing a decade of unfavorable impressions. ... [F]or the most part, the reboot works: What came across as pompous and contrived last time now registers as earnest, genuine — and even a little bit scrappy."
If you're still unsure of what to think about Songs of Experience, you can stream it from the Apple Music and Spotify widgets below.
U2 Albums Ranked