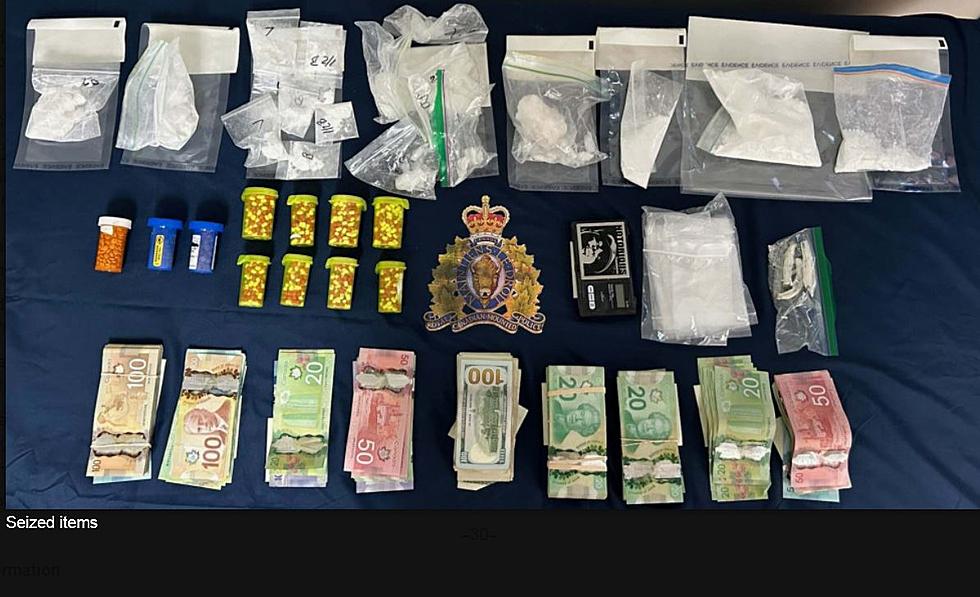 Two Grand Falls, N.B. Women Arrested in Drug Trafficking Sting
New Brunswick RCMP
Two women from the Grand Falls, N.B. area have been arrested in connection with an ongoing drug trafficking investigation.
Officers executed a search warrant at a residence on West River Road shortly after 6:00 p.m. last Thursday, March 2nd, according to Cpl. Hans Ouellette of the New Brunswick RCMP.

Police seize cocaine, meth and other drugs from Grand Falls residence
During the search, police say they seized significant quantities of what appeared to be cocaine, crystal methamphetamine, nabilone pills, clonazepam pills, and psilocybin mushrooms. Police also reportedly confiscated drug trafficking paraphernalia and money.
A 54-year-old woman and a 22-year-old woman, both from Grand Falls, were arrested at the scene and later released, Ouellette said. The 54-year-old woman is scheduled to appear in Woodstock Provincial Court on May 23.
The New Brunswick RCMP's Provincial Crime Reduction Unit began the investigation into the trafficking of illegal drugs in the Grand Falls area in May 2022. The unit includes police officers from the New Brunswick RCMP and Fredericton Police Force.
Other agencies that assisted in the recent drug bust included members of Justice and Public Safety, RCMP Police Dog Services and the Saint-Léonard RCMP. The investigation is ongoing.
Police asking for help from public in drug cases
The RCMP is asking anyone with information about, or who suspects, illegal drug activity in their neighbourhood to contact their local police. Information can also be provided anonymously through New Brunswick Crime Stoppers at 1-800-222-TIPS (8477).
Parents Should Familiarize Themselves with These Illegal Drugs
Knowledge is power, especially when it comes to recognizing and understanding when your child becomes involved with illegal drugs.
The Most Romantic AirBnB in Canada in 17 Pictures
A majority of people in Western New York have been waiting for this moment to cross the border, with some Buffalonians thinking about a trip to Toronto.
If you want a fun getaway weekend, this AirBnB has a beautiful view of the lake and the entire home is yours.