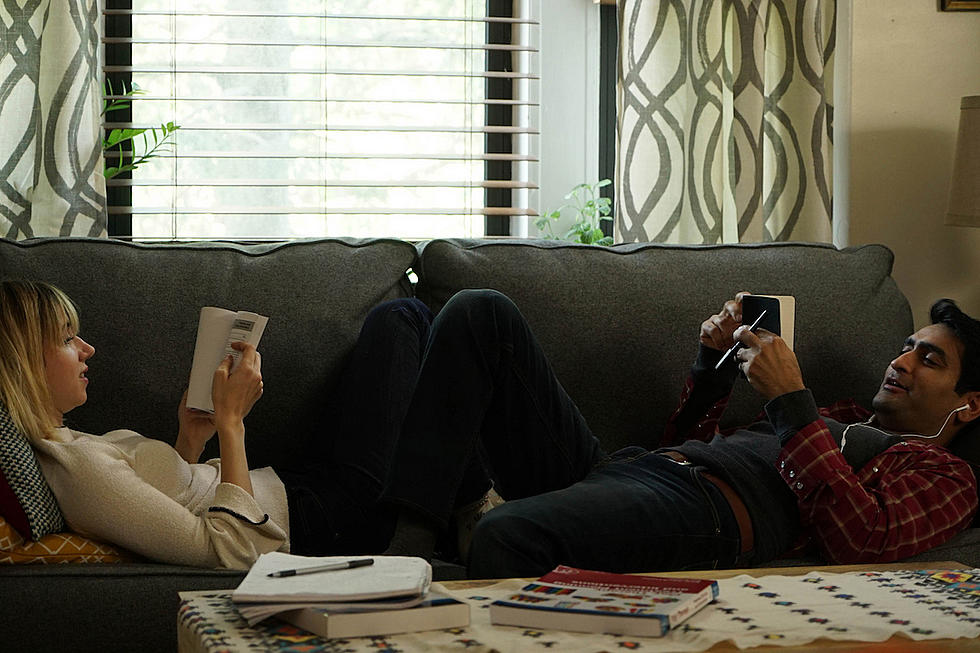 'The Big Sick' Review: The Cure for the Common Rom-Com
Courtesy of Sundance Institute
There's always a stupid reason why the couple in a romantic comedy can't be together until the closing credits. An ex-girlfriend or boyfriend appears at the most narratively convenient moment, or bad weather stops someone from keeping a very important date, or one of the leads becomes a ghost, or there's a misunderstanding that could easily be cleared up if the characters just sat and talked to one another like human beings for literally 15 seconds.
One of the best things about The Big Sick is that the obstacles facing this relationship are real and relatable. It's a funny movie, but it's about really serious stuff. The story is based on the real-life romance of its two writers, Kumail Nanjiani and Emily V. Gordon. That they wrote the film together (and, yes, are married in real life) should probably qualify as a spoiler, but it's amazing how little that matters, and how engrossing and even suspenseful The Big Sick is, even if the ending is a foregone conclusion. Thanks to a terrific cast and a boldly confessional script, it's very hard not to get caught up in the emotional rollercoaster between Kumail (playing himself) and Emily (Zoe Kazan).
They meet at the Chicago comedy club where Kumail performs five-minute sets in exchange for favors for the owner (David Alan Grier). Emily interrupts one of Kumail's joke with a "Woo!" and he informs her that it's impolite to heckle a comedian (and that, yes, a positive comment can still qualify as a heckle). Their connection is immediate, but neither wants to commit to anything serious. Emily's working on her master's degree and Kumail needs to focus on his comedy career.
Even more importantly, Kumail comes from a religious Pakistani family, and his loving but strict parents expect him to accept an arranged marriage to a Pakinstani girl. Whenever Kumail goes home to have dinner with his mother (Zenobia Shroff), father (Anupam Kher), brother (Adeel Akhtar), and sister-in-law (Shenaz Treasurywala), single women just happen to "drop by" for a bite too. Kumail doesn't want to upset his parents, so he goes along with the awkward situation. But his feelings for Emily keep getting deeper and deeper.
As the title suggests, there's another issue standing in the couple's way. A few months later, Emily suddenly gets hospitalized and placed in a medically induced coma. This is how Kumail meets Emily's parents Beth (Holly Hunter) and Terry (Ray Romano), and how he comes to spend several weeks (and a large portion of the movie's second act) getting to know them. Beth and Terry's history and current marital issues inform Kumail's decisions about whether to continue his relationship with Emily and to tell his parents the truth about his beliefs, knowing that if he does there's a very real possibility they might disown him.
Familial rejection and potentially fatal diseases are pretty weighty subjects for a romantic comedy, which is what makes The Big Sick a special one. Director Michael Showalter (The State, The Baxter) manages to strike the perfect balance between humor and melancholy, aided in no small part by a cast that is equally good in funny and poignant scenes. Nanjiani and Kazan have undeniable chemistry, but the real MVP of the film is Romano. People who only know him from Everybody Loves Raymond will be blown away by his multilayered performance here, which is predictably hilarious and surprisingly touching.
The Big Sick also bears the distinctive creative fingerprints of its producer, Judd Apatow; like a lot of his movies, it's a messy two-hours-plus romantic comedy that bounces between big laughs and darker material about mortality and the difficulty of maintaining a relationship over the long haul. It also features a fair number of hilarious comedians in small supporting roles (like Aidy Bryant, Bo Burnham, and Kurt Braunohler as Kumail's standup comedy buddies) and is arguably 10 minutes too long.
But then again, I'm not sure what I would cut. You can't cut any of the jokes (including the first great Apple Touch ID gag I've seen in a movie), and all the time spent with Kumail's family (like the richly nuanced sequence between Kumail and his brother at a batting cage) pays off when he finally stops avoiding his parents and confronts them about his feelings for Emily. Don't be surprised if it gets dusty in the theater during that scene.
That sequence, like a lot of sequences in The Big Sick, is both wonderfully specific and movingly universal. There are no dopey screenwriter-y contrivances; you don't need to know this is a true story to recognize that this story is true. Which brings me back to my first point. Almost every romantic comedy is predicated on artificiality. The Big Sick is authentic from start to finish.