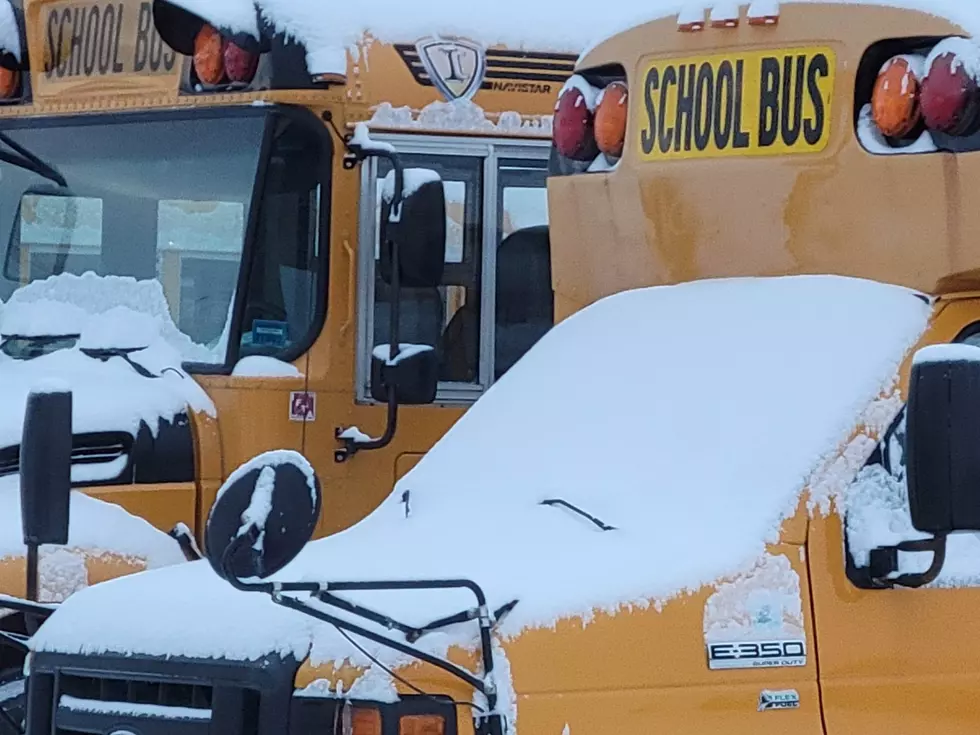 Storm Closings and Cancellations – Aroostook County (Friday, Jan. 13)
Mark Shaw/Townsquare Media
Snow, sleet and freezing rain will make travel difficult on Friday as the first major January storm hits Aroostook County and western New Brunswick. 
Here are the latest storm closings and cancellations. The list will be updated frequently.
Business and Office Closures & cancellations:
The Braden Theater will be closed tonight (Friday, Jan. 13) due to hazardous road conditions.
KMH Music in Presque Isle is closed due to road conditions.
Graves Shop 'n' Save closed at 11:00 a.m.
City of Presque Isle Municipal Offices are closed Friday, including the Library, Rec. Center & City Hall
Caribou City Offices and all municipal offices are closed Friday. That includes the Caribou Public Library and the Caribou Wellness Center.
Limestone Town Office is closed Friday.
Ashland Town Office, Library and Rec Department will be closed Friday
Mapleton, Castle Hill and Chapman Town Offices are closed.
Van Buren Town Office, Recycling, Library and Rec. Dept. is closed Friday.
Grand Isle Town Office is closed

Fort Kent Town Office is closed
Madawaska Town Office is closed
Caribou District and Superior Court are closed
Presque Isle District Court is closed
Aroostook County Government Offices are closed

Northern Maine Development Commission is closed today.
Star City Sanitation is not picking up today.
Gil's Sanitation is cancelling pick-up for Friday.
City Sanitation in Caribou has cancelled services for Friday.
Saucier Sanitation in Fort Kent has cancelled pick-up due to Friday's storm.
All northern branches of Acadia FCU will be closed on Friday, January 13. This includes Fort Kent, Madawaska, St. Francis, St. Agatha, and Ashland. (Bangor branches remain open.)
All NorState FCU locations are CLOSED on Friday
Katahdin Trust in Eagle Lake is closed. The Fort Kent branch is open until 3pm for drive-up service.
The Presque Isle and Caribou branches of Machias Savings Bank will be closing at 3:00 this afternoon due to weather.
The Central Aroostook Chamber of Commerce will be closed Friday
Aroostook Regional Transportation System (ARTS) will be closed Friday.
Meals on Wheels in northern Aroostook is not running today
Mars Hill Recreation Dept/Community Center will be closed on Friday.
The Northern Lighthouse is closed to all in-person appointments.

The Valley Wildcats team arrived yesterday in Grand Falls, meaning that tonight's game against the Rapids in Grand Falls WILL BE PLAYED AS SCHEDULED starting at 7:30 pm at the E.&P. Sénéchal Centre.
School Cancellations, Closures and Delays:
Schools across Aroostook County and western New Brunswick are closed Friday due to the storm.
MSAD #1 (Presque Isle/Mapleton schools) will have a Remote Learning Snow Day on Friday, and will reflect the scheduled half-day session.
Northern Maine Community College is closed Friday
The University of Maine at Presque Isle and the Houlton Higher Education Center will be closed on Friday
The UMFK campus will be closed until midnight Friday. All buildings, including the Library, the Sports Center, and Nowland Hall will be closed.
If you have a storm-related message you would like included on this list, email us at newspi@townsquaremedia.com
12 of the Most Magical Winter Wonderland Towns Are in New England