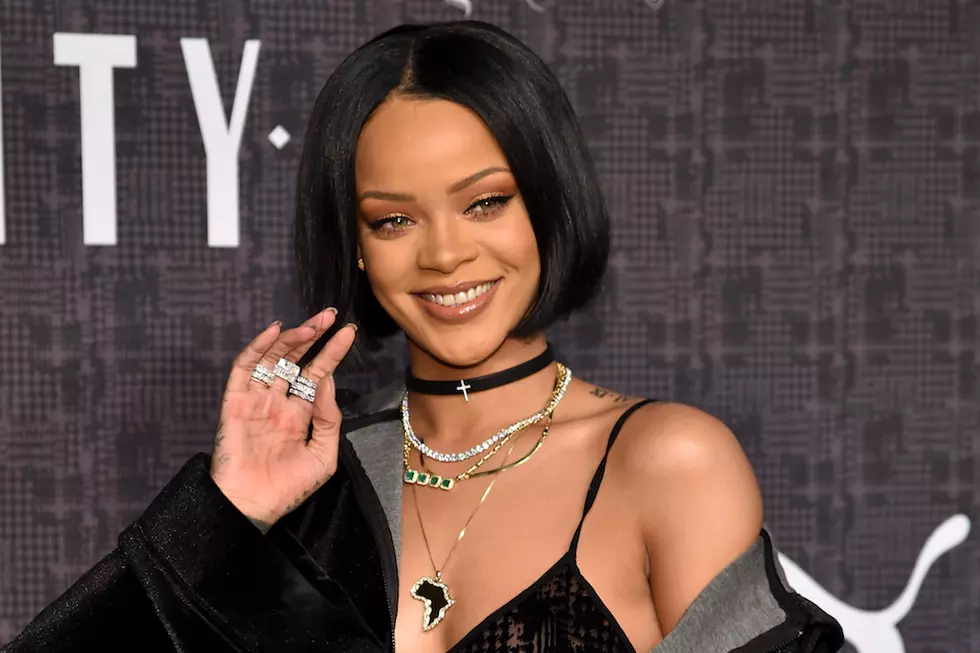 Rihanna Nabs Her 30th No. 1 Dance Club Song on Billboard Chart With 'Pose'
Dimitrios Kambouris, Getty Images
Thanks to the song "Pose" from her album Anti, Rihanna is making her way to legend status as she landed her 30th No. 1 song on Billboard's Dance Club Songs chart. The track, which was remixed by Alex Acosta, Country Club Martini Crew and The Perry Twins made the move from No. 2 to No. 1.
The feat now puts Rihanna a few steps closer to Madonna who has the most No. 1 Dance Club Songs with 46 No. 1 tracks. Rihanna is also quickly gaining on the singer as she has hit No. 1 seven times since Madonna's last No. 1 song in 2015, "Bitch, I'm Madonna." According to Billboard, "Pose" is Rihanna's third topper of the year after "Love on the Brain" and "Sex With Me." Back in June, Rihanna became the first woman to break into the top 5 in a long 12 weeks with  DJ Khaled's "Wild Thoughts" featuring Bryson Tiller.
In other Rihanna news, she recently announced the line-up for her third annual Diamond Ball charity event. Dave Chappelle will host and Kendrick Lamar is slated to perform at the event, which will benefit the Clara Lionel Foundation.
‎"I'm thrilled that the incomparable Dave Chappelle will kick things off as the official host of this year's Diamond Ball and Kendrick Lamar will take the stage for an unforgettable performance," said Rihanna said in a statement (via Billboard). "I'm proud of the Clara Lionel Foundation's significant impact in the world over the years and deeply grateful for the continued support and commitment to advancing our mission."
Worst to Best: Every Rihanna Album Ranked