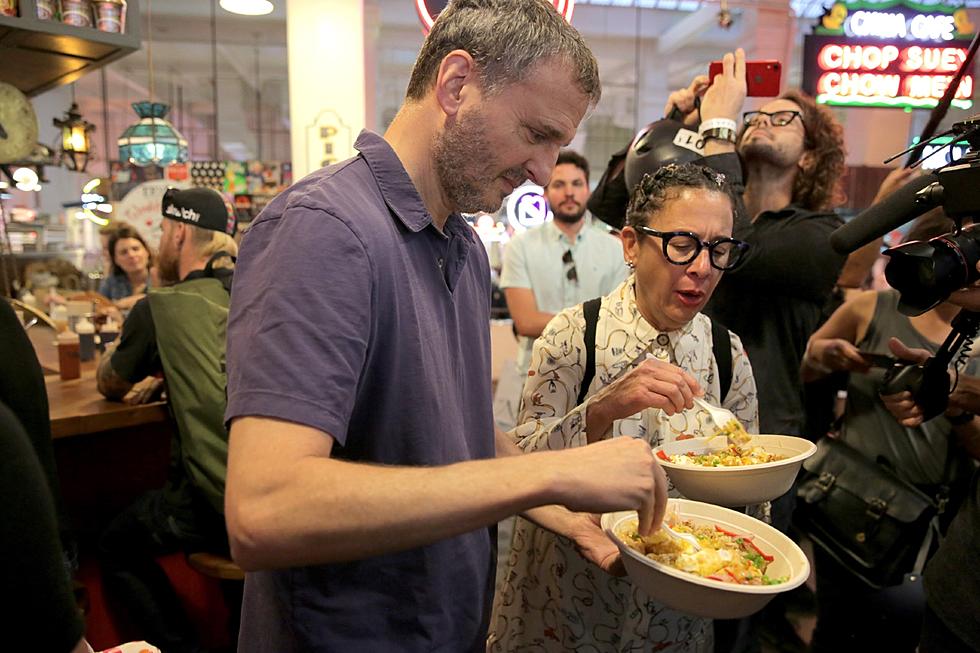 Popular Netflix Series 'Somebody Feed Phil' Set for Maine Episode in May
Getty Images
If you haven't had a chance to catch an episode of 'Somebody Feed Phil' on Netflix, you've got some time to catch up. The series follows Phil Rosenthal, best known as the creator of the long-running sitcom 'Everybody Loves Raymond', as he visits different locales around the globe while sampling some of the best local cuisine. It's a tried and true concept for a show, but it's Rosenthal's demeanor and quick wit that have made the show a hit.
According to Portland Food Map, Rosenthal is set to dedicate one of the episodes as part of season five to the state of Maine. Naturally, you can expect Phil to visit the epicenter of food in Maine as he crawls through a few different spots in Portland. But Rosenthal is also going to visit places in Biddeford and the midcoast, including one very notable and recognizable tourist trap. According to the Times Record, all of the filming for the Maine episode of 'Somebody Feed Phil' took place last fall. So where can you expect Phil to visit? Here's a few places locked in for sure before the Maine episode of 'Somebody Feed Phil' debuts on May 25th.
BIDDEFORD
Palace Diner
Phil will spend at least some of his Maine episode in the city that is quickly becoming Portland-south when it comes to unique restaurants and breweries that are on people's must-try list. That includes the famous diner that has seemingly been around forever. What Phil is fed at the Palace Diner is still a mystery. You'll have to watch the episode to find out.
Rabelais - Fine Books On Food and Drink
Considered one of the best, if not THE BEST cookbook shop in America, Phil will make a pit stop at Rabelais in Biddeford. While he can't necessarily eat or drink on site, he can certainly grab some rare recipe books for both meals and cocktails in this hidden treasure hiding inside the Pepperell Mill.
---
PORTLAND
Bite Into Maine
The Bite Into Maine food trailers can be spotted serving some of their classic lobster rolls all over the state. You know if Phil Rosenthal is coming to Maine to be fed, he's going to have at least ONE lobster roll. Which Bite Into Maine food trailer he visits is also a mystery, but that's why you've got to watch.
Leeward
While Phil absolutely can get down with dinner food and pub grub, he occasionally likes to take things up a few notches. He'll do that with a visit to Leeward, a hidden gem along Free Street next to the Maine College of Art. In a short time, Leeward has already made many lists of an absolute must-try restaurant.
Terlingua
Come to Portland and grab yourself some barbecue. Portland is home to several fantastic barbecue joints, but Terlingua has set themselves apart with their food and their setting. What did they feed Phil? It's a good question that will be answered very soon.
---
MIDCOAST
Red's Eats
For consistent visitors to midcoast Maine, there's a magnetic urge to stop at Red's Eats at some point during that visit. You can't blame Phil for wanting to be fed by this tiny seaside shop with a line longer than Disney World. Phil will dive into a pair of their most popular items on his Maine episode.
---
The 5 Maine Restaurants Featured on Diners Drive-ins and Dives Plus 5 More That Should Be on The Show
The 8 Places Anthony Bourdain Visited in Maine on 'No Reservations'
Throughout his storied career, superstar chef and storyteller Anthony Bourdain made a handful of trips to Maine. If you missed his critically-acclaimed episode of 'No Reservations' that was shot in Vacationland, here's a snapshot of everything Tony saw, did and tasted.