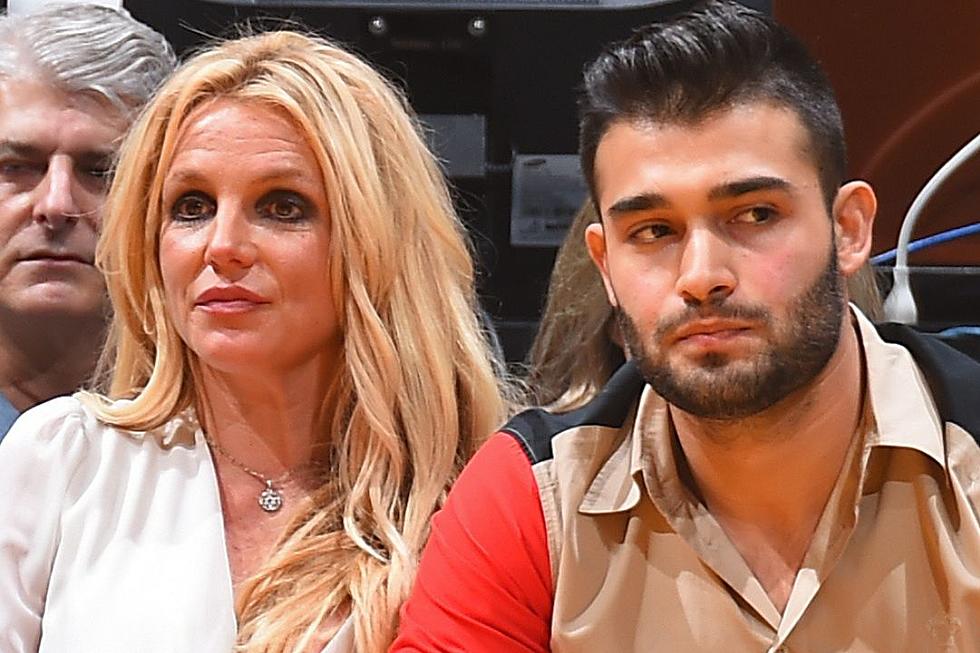 Britney Spears' Husband Files for Divorce, Allegedly Threatens to Release 'Embarrassing' Details About Singer: REPORT
Andrew D. Bernstein, Getty Images
Britney Spears' husband Sam Asghari has reportedly filed for divorce.
Entertainment Tonight reports the fitness trainer has filed for divorce from the pop superstar just one year after the couple tied the knot.
"Britney and Sam have split. She's adamant she didn't cheat. The two haven't got along for a while and it finally came to an end after a major blowup," a source told Entertainment Tonight Wednesday (Aug. 16).
Another source told ET the pop star has "not being doing well" amid the breakup, but that she has "people by her side" rallying for her.
"She is hurt because the situation brings up old feelings for her. This is the last thing she needed, especially after her boys moved to Hawaii, being worried about the fires there, and so on. She has been trying to get back on her feet and be healthy emotionally, physically, and mentally," the source said.
READ MORE: Britney Spears' Sons Won't See Mom Before Hawaii Move: REPORT
Yet another insider told ET that Spears and Asghari argued "a lot over fundamental issues" during their relationship.
"Sometimes they feel as though each other's needs aren't being completely met. Recently, things took a bad turn and their arguments became more serious and real," the source alleged.
The divorce filing news comes just hours after TMZ first reported Spears and Asghari had broken up amid allegations of infidelity.
Meanwhile, Page Six reports Asghari is seeking to renegotiate his prenuptial agreement to have Spears "pay him more than what their prenup provides."
A source alleged Asghari has threatened to release personal details and "extraordinarily embarrassing information" about Spears "unless he gets paid."
READ MORE: Britney Wrote 'Don't Hang Up' About Phone Sex With Colin Farrell
However, another source told Page Six that Spears is well "protected."
"It's blackmail and it'll never happen," the source said.
Spears and Asghari started dating after meeting on the set of Spears' music video for "Slumber Party" in 2016.
The couple got engaged in September 2021. They were married on June 9, 2022.
Spears was previously married to dancer Kevin Federline. The exes share two sons: Sean Preston, 17, and Jayden James, 16.
Celebrity Couples Whose Breakups Broke Our Hearts
Here are 25 iconic celebrity couples that definitely made us shed a tear when they went their separate ways.