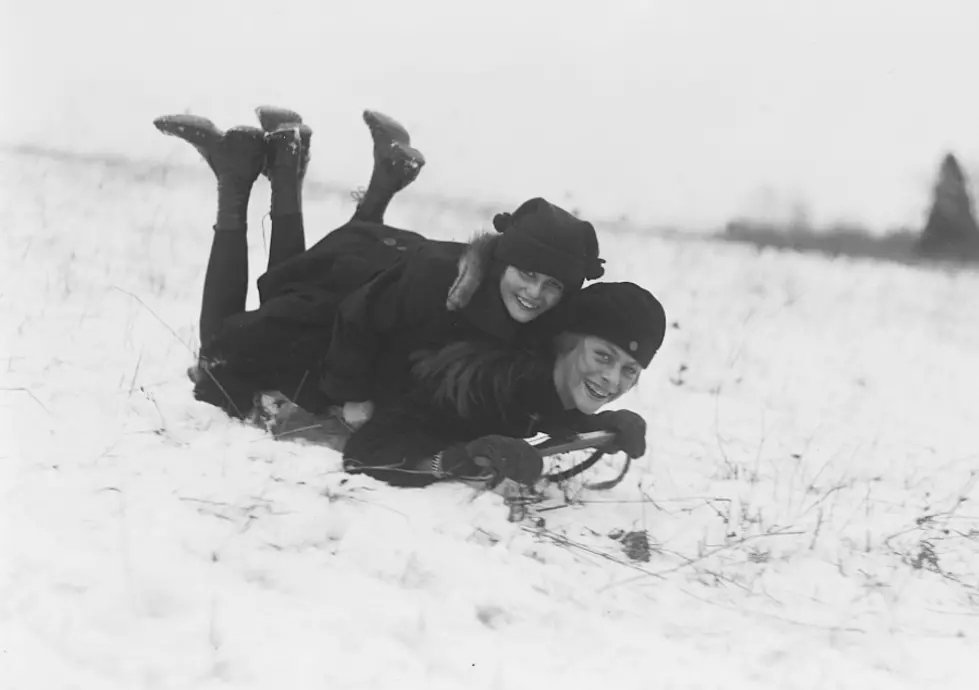 Playing in the Snow in Years Gone By [Vintage Photos]
Library of Congress
Northern winters have always provided lots of opportunity for fun. Take a look back more than a hundred years at these photos which captured the ways children and "grown-ups" played in the snow.
Two friends sledding in Washington, D.C., circa 1917.
BELOW: Boys cleaning snow off the ice on the skating rink, early 1900's.
The next best thing to a one-horse open sleigh, circa 1927.
Children having a sledding party in Central Park, Feb. 1914.
Learning to ski in Quebec, circa 1920. (Look out for that tree!)
Boy in aviator cap pulling young children on snow sled on a sunny winter's day, 1934.
This means war! Young men engaged in a snow ball battle in College Park, 1923.
Original photo caption: "Girls from Keiths enjoy 1st real snow of season, Jan 1925."
Children sliding on a wooden chute at an open-air school in Rochester, New York. circa 1912.
Sledding on the rolling hills in Central Park, circa 1907.
Barefoot volleyball in the snow in Bolby Field, Feb. 1922.
Building a snow fort at noon recess at a rural school in North Dakota, Feb. 1942.
Five children on a pony-drawn sled, 1909. Mittens optional.
Original photo caption: "Hired man and young neighbor of Frank H. Shurtleff rough housing in the snow while gathering sap from sugar trees for making maple syrup." New Hampshire, 1940
Rule # 42: There will be no skiing off the roof. Standing on it for a school photo is fine. Public school, Valdez, Alaska, circa 1910.
Snowboarding, anyone?  A daring young woman on a sled being pulled by a plane, Feb. 1922.
Long, long ago. Children playing in their snow fort at the Citadel in Quebec, 1884.
"Now you pull me." Wee ones on a toboggan in Quebec, 1884.
Watch the history of snow plows in Maine featuring interviews with former Coles Express drivers and and old time footage.
Here they are: 25 Winter Life Hacks That Just May Change Your Life