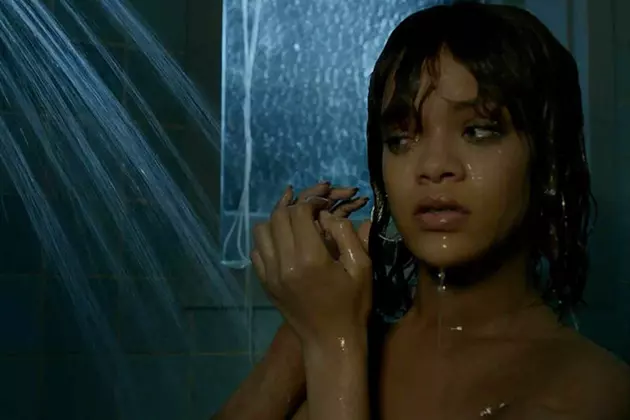 Here's Why 'Bates Motel' Gave THAT 'Psycho' Death to Another Character
A&E
Five seasons of Bates Motel have inevitably built toward one Psycho moment, even going so far as to hire Rihanna in the role of Alfred Hitchcock's most famous kill. That said, last night's "Marion" took a major swerve from the 1960 film, for which producers explain why the new shower scene was "definitely not throwing shade" at a classic.
You're warned of full spoilers for Bates Motel's final season from here on out, but where Monday's "Marion" hyped up Rihanna's climactic appearance as the iconic Marion Crane, producers opted for a hard left from Psycho canon. All the major moments were there, including an extended shower scene, peepholes and talk of taxidermy, but in the end, Norman opted against any feelings of harming Marion, sending her away from the motel before he could change his mind.
Instead, it was Marion's married boyfriend Sam Loomis (Walking Dead star Austin Nichols) who got the knife in a later scene, as Norman allowed the vision of his mother to convince him Sam stood in for the bad men plaguing him all his life. The second shower played out much closer to the famous Janet Leigh scene, save for that famous score, and the fact that Norman didn't need to dress up as his mother, having embraced his own desire to kill Sam.
As executive producer Kerry Ehrin explained to The Hollywood Reporter, Sam made more sense as the object of Norman's murderous rage, given everything they'd explored over five seasons:
We discussed this episode for a long time in the writers' room. It was a tall order to bring Psycho in, not let it take over, and deliver a story that was going to have meaning for the arc of our characters. We also wanted our story to be at a peak while doing the episode, so it was almost like a math equation. Eventually it felt like because the story we have been telling in Bates Motel is about how Norman got the way he is and how a lot of it had to do with growing up in a violent household, that led us back to killing Sam. The idea was that he represented to Norman a version of his father. Norman is really going deep, deep down the rabbit hole of insanity; this makes sense in his head at this moment. It's both heartbreaking and horrific, which is sort of the cocktail that we like. We like heartbreak in our horror.
And while a headline-grabbing addition like Rihanna fits the mold of Janet Leigh being given top billing in the original Psycho, Ehrin and co-executive producer Carlton Cuse told TVLine that they didn't want to make Marion a helpless victim in 2017:
CUSE: We did not want to just do what the movie did. And we didn't feel like Marion would come across as a particularly empowered character if she was murdered in the shower. We wanted her to be a fundamentally stronger, more decisive character. […]

We were definitely not throwing shade at it. That movie was light years ahead of its time in 1960. That type of portrayal was appropriate for 1960, but not for 2017. The movie has to be judged in the context of the time in which it was made. And when it was made it was radical [in how it broke] the narrative rules. To have this character who appears to be the lead [of the film] die in the first act was just an amazing idea.

EHRIN: But it was a portrayal of a woman created in a world of men.
Either way, Bates Motel has four more episodes to deal with the fallout of Sam's murder, as well as wrap up its own storylines, but did the prequel drama have a satisfying rendezvous with its cinematic inspiration? What other moments might they have subverted?
You can watch a comparison between the original and TV versions below (h/t UPROXX), and stay tuned for more on Bates Motel's final season.