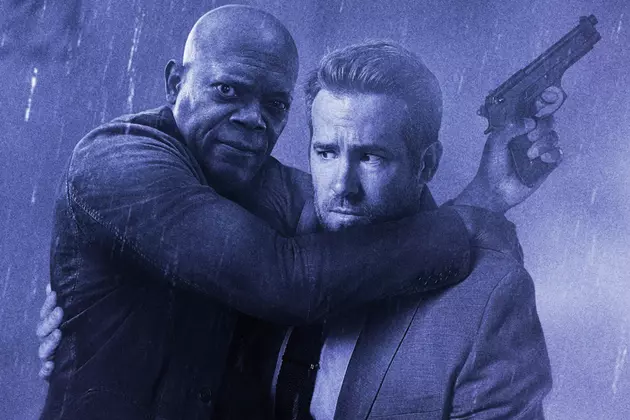 Weekend Box Office Report: Weirdest. Labor Day Weekend. Ever.
Lionsgate
In a weekend where no new releases cracked the Top 10 and six movies maintained their exact spot in the rankings, you'd think there would be less news worth sharing. That isn't quite the case. Sure, as sites like Box Office Mojo have noted, this is a historically bad Labor Day Weekend for movies in theaters, but it's also a uniquely static weekend for releases, one that even required me to create a second chart just to capture all the data points. Let's start as we always do, with the box office grosses as of Sunday afternoon:
Film
Weekend
Per Screen
1
The Hitman's Bodyguard
$10,250,000 (-0.1%)
$3,042
$54,944,214
2
Annabelle: Creation
$7,300,000 (-5%)
$2,174
$88,975,598
3
Wind River
$5,863,074 (+27%)
$2,253
$18,285,511
4
Leap!
$4,886,923 (+3%)
$1,807
$11,381,726
5
Logan Lucky
$4,421,125 (+4%)
$1,486
$21,451,612
6
Dunkirk
$4,125,000 (+4%)
$1,499
$178,754,545
7
Spider-Man: Homecoming
$3,650,000 (+29%)
$1,793
$324,051,546
8
The Emoji Movie
$2,450,000 (-2%)
$1,162
$80,326,714
9
Despicable Me 3
$2,360,175 (+34%)
$1,107
$257,895,405
10
Girls Trip
$2,322,430 (-1.7%)
$1,445
$111,581,945
Here's the problem with this list, though: after five consecutive weeks of overall declines at the box office, the domestic numbers actually went up this weekend, despite these movies dropping screens in the process. To fully appreciate the dead cat bounce we've seen this weekend, we might do well to show the Per Screen improvement between last weekend and this weekend.
Film
Per Screen (8/27)
Per Screen (9/1)
1
The Hitman's Bodyguard
$2,976
$3,042
+2.22%
2
Annabelle: Creation
$2,062
$2,174
+5.43%
3
Wind River
$2,095
$2,253
+7.54%
4
Leap!
$1,948
$1,807
-7.24%
5
Logan Lucky
$1,441
$1,486
+3.12%
6
Dunkirk
$1,424
$1,499
+5.27%
7
Spider-Man: Homecoming
$1,284
$1,793
+39.64%
8
The Emoji Movie
$990
$1,162
+17.37%
9
Despicable Me 3
$827
$1,107
+33.86%
10
Girls Trip
$1,276
$1,445
+13.24%
See the difference here? With the exception of Leap!, every single movie in the Top 10 this week saw its per-theater grosses go up, in some cases drastically so. I mean, Despicable Me 3 was all the way down in 13th place last weekend, and it bounced back up four spots and saw one of the highest per-theaters increases in the process. What a weird weekend.
Since none of the major titles have changed, let's do a slightly abbreviated version of our weekend recap. In first place again with $10.2 million is The Hitman's Bodyguard, a movie that has certainly benefitted from the August doldrums to stay atop the Top 10 for three consecutive weekends. In the process, the film only dropped an unfathomable 0.1%, pushing it up to $54 million throughout its release. In second place is Annabelle: Creation, which also featured a ridiculously small drop  —  this time of 5%  —  to end up with $7.3 million for the weekend. $100 million isn't looking that far-fetched anymore, is it?
Wind River moves up another spot this week to third place with $5.8 million. If there's a silver lining to the terrible box office of the past few weeks, it's that audiences have been given the opportunity to discover Wind River in their own time; it's hard to imagine Taylor Sheridan's directorial debut doing this well in a more crowded lineup. Leap! finishes in fourth with $4.8 million, which, again, earns it a spot in my second chart as the only movie to actually lose money on a per-theater basis this weekend. Globally, Leap! has now pushed up above $90 million, so don't be fooled by the unimpressive domestic gross: this film is solidly a financial success for everyone involved.
Logan Lucky holds onto fifth place this weekend with $4.4 million, an improvement on last weekend's numbers and a needed reprieve for a film that has undershot its projections for almost its entire theatrical run. And consideration that exactly $12.18 of that came out of my pocket  —  not everyone has time to hit up every press screening, you know  —  I'm going to give myself credit for putting Steven Soderbergh's heist film back in the black. Dunkirk finished in sixth place with $4.1 million, but that's not the whole story: Christopher Nolan's World War II film finally received its China premiere this past weekend and opened to an estimated $30 million, which will offer a really nice boost for the film's bottom line. That may be down a bit from Interstellar  —  which opened to $42 million in China in 2014 and barely dropped anything in its second weekend  —  but still, this proves Nolan's films are still a huge international draw.
Spider-Man: Homecoming enjoyed the weekend's biggest bounce in seventh place, adding 29% to its overall gross and finishing with $3.6 million. I guess if you wanted to see a movie in theaters this weekend, rewatching the newest Spider-Man movie was a better option than convincing yourself that Tulip Fever was worth a trip. In eighth place with $2.4 million is The Emoji Movie, and, well, I'm still not going to talk about that movie any more than I have to, so here's your obligatory link to our Critics Are Raving feature. Logic tells me there must be people who decided to see it for the first time this weekend  —  I mean, it did have a pretty solid uptick on its per-theater basis  —  but I'll be danged if I can figure out why someone would choose this weekend over all of the others.
As previously mentioned, Despicable Me 3 had quite the big weekend, jumping back into ninth place and ending up with $2.3 million. And finally, Girls Trip held tight to 10th place, taking in $2.3 million and now sitting at $111 for its theatrical run. In a week or two, it should even pass Fifty Shades Darker on the list of highest-grossing movies of 2017, which, wait, Fifty Shades Darker made over $100 million? Geez, everything just seems to blur together these days.