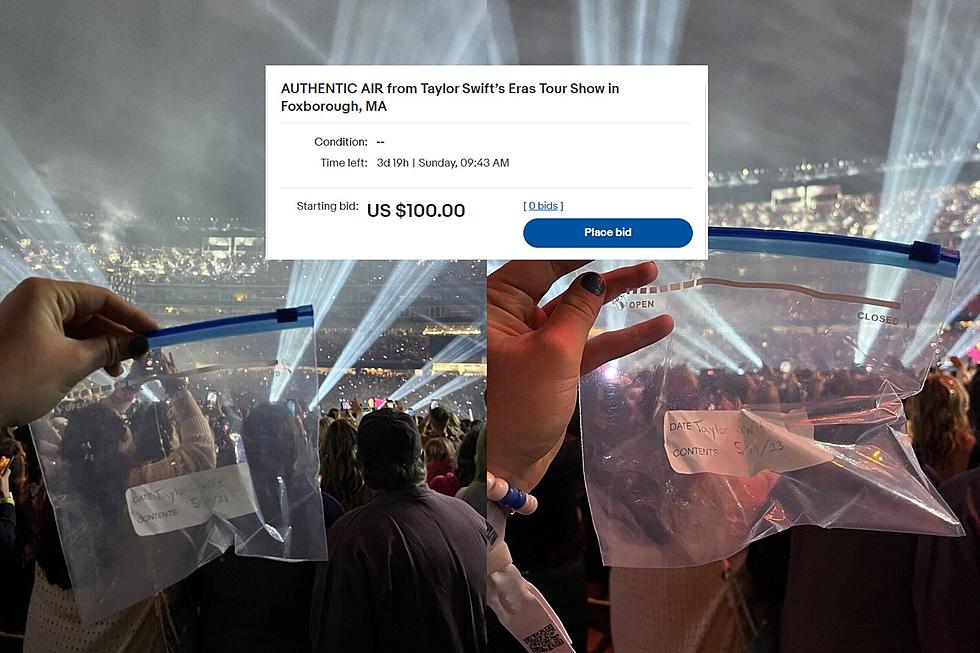 This eBay User Is Selling Air From Taylor Swift's Gillette Stadium Concert
Credit: eBay
Eras Tour? More like… AIR-as Tour. I'm so sorry.
An eBay user has emerged from Foxborough this weekend with an unusual listing that is sure to leave Taylor Swift fans gasping for breath and unable to Speak Now. This Fearless seller claims to possess a Ziploc bag filled with air from the pop sensation's Friday night concert at Gillette Stadium.
The eBay listing, aptly titled "AUTHENTIC AIR from Taylor Swift's Eras Tour Show in Foxborough, MA," promises prospective buyers a chance to own a tangible piece of the iconic singer's aura. The air sample allegedly originates directly from the floor seats of the May 19th show, leaving room for speculation that this particular pocket of the atmosphere may have been touched by Taylor herself.
Although it cannot be definitively confirmed that Taylor Swift took a breath of this specific air during the concert, the seller boldly asserts that there exists a high probability. The stakes have been raised, dear Swifties, as this could be your golden opportunity to forever possess a fragment of the illustrious Eras Tour.
The item description goes on to reveal that the proceeds from this audacious sale won't be used to paint the town Red, but instead will be directed toward a noble cause—paying off the seller's girlfriend's student loan debt. With a heartwarming plea from one Swiftie boyfriend to another, this unconventional auction serves a dual purpose: acquiring an extraordinary memento while extending a helping hand to a fellow Lover in need.
"This air is 100% AUTHENTIC and comes straight from the floor seats of Taylor Swift's Eras Tour Show in Foxborough, MA on 5/19.

 

It cannot be confirmed but there is a high probability that Taylor actually breathed this particular sample of air at some point in time during the show. This is your chance to have a piece of her and the eras tour forever!

 

(Note: 100% of the proceeds are going to payoff my gf's student loan debt and the debt she incurred from purchasing these tickets. From one Swiftie boyfriend to another, please help us out! Thanks!!!"
It's worth noting that in 2015, a plastic bag purportedly containing air from a Kanye West concert garnered widespread attention on eBay. Despite lacking any concrete proof of authenticity or attendance, the bag managed to attract a whopping 90 bidders, driving the starting price of $5 to an astronomical $60,000. This is ironic considering Taylor Swift and Kanye West's contentious relationship that began in 2009 when Kanye infamously interrupted Taylor's acceptance speech at the MTV Video Music Awards, claiming that Beyoncé deserved the award instead. 
Will Swifties succumb to the allure of owning a piece of Taylor's atmosphere, or will they dismiss it as a whimsical notion? Only time will reveal the ultimate fate of this offering.
A Look Back at Tom Brady's Six Super Bowl Wins With the New England Patriots