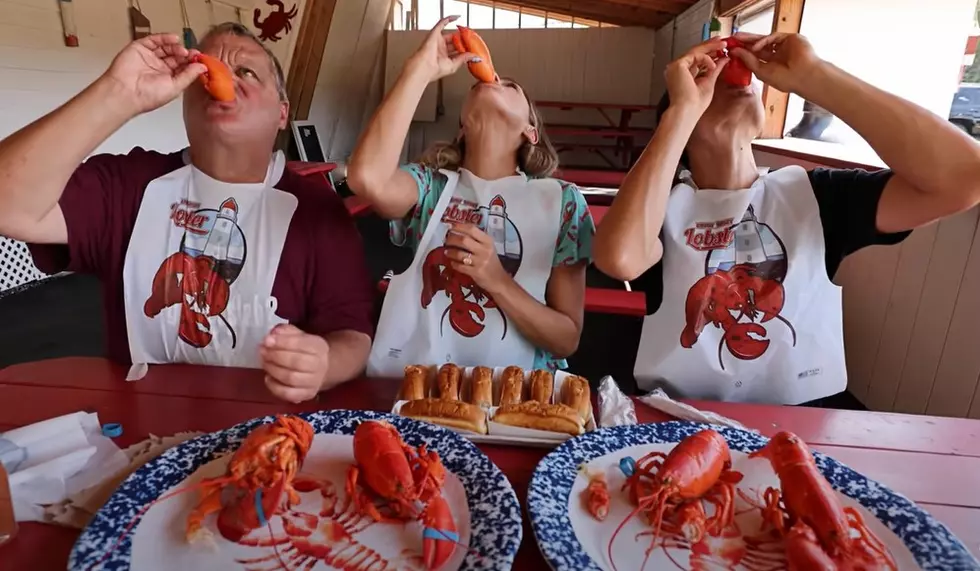 Support Our Lobster Industry During 'Maine Lobster Week'
Mark Wiens YouTube
Eat More Lobster! Support Maine's lobster industry!
Summer may be in the rearview mirror, but that doesn't mean you can't still enjoy fresh Maine lobster.
Maine Lobster Week is almost here, it runs from September 24th-September 30th, and includes National Lobster Day on September 25th. A huge number of restaurants across the state will take part in this event.
One of the great things about hitting the open road to explore Maine, is the abundance of mouth watering food that we are blessed to have, from Fort Kent, to Kittery. With this in mind, we did some detective work for you, to find out where you can sniff out the best lobster deals during this fun week.
34 restaurants have signed on to participate in Maine Lobster Week, although more than half can be found in Southern Maine, there are plenty of options here in Eastern Maine.
Some participating locations will serve specially priced, multi-course lobster meals, other locations will feature lobster rolls, and extra special lobster dishes
Here is the list of participating locations:
555 North-Brunswick
Bar Harbor Lobster Co.-Bar Harbor
Bentley's Saloon-Arundel
The Boathouse Waterfront Restaurant-Kennebunkport
Boone's Fish House and Oyster Room-Portland
Broad Arrow Tavern at the Harraseeket Inn-Freeport
The Burleigh at Kennebunkport Inn-Kennebunkport
Cape Neddick Lobster Pound-Cape Neddick
Clam Bar-Portland
Cloud 9 Restaurant-Augusta
David's Portland-Portland
Davids 388-South Portland
Dizzy Birds Rotisserie-Biddeford
Dock Fore-Portland
Eventide Oyster Co.-Portland
Evo Kitchen + Bar-Portland
Federal Jack's Brew Pub-Kennebunk
Fish Bones Grill-Lewiston
Gilbert's Chowder House-Portland
The Honey Paw-Portland
Jameson Point Lobster Co.-Friendship
Johnny Shucks Maine Lobster-Old Orchard Beach
Jonathan's Ogunquit-Ogunquit
The Knotted Apron-Portland
The Lobster Cooker-Freeport
Luke's Lobster Portland Pier-Portland
Natalie's at Camden Harbor Inn-Camden
Nina June restaurant-Rockport
No. 10 Eatery- Willows Awake Winery-Leeds
Noble Kitchen & Bar-Brunswick
Nonesuch River Brewing-Scarborough
Novio's Bistro-Bangor
Old Port Sea Grill-Portland
Pepper's Landing-Brunswick
Pepper's Landing-Old Town
Pepper's Seafood Co-Ogunquit
Pine Point Grill-Scarborough
Rodney's at 436 Main-Presque Isle
Sea Dog Brewing Company-Bangor
Sea Dog Brewing Company-Camden
Sea Dog Brewing Company-Scarborough
Sea Dog Brewing Company-South Portland
Sea Dog Brewing Company-Topsham
Sea Glass at Inn by the Sea-Cape Elizabeth
Sea Salt Lobster Restaurant-Saco
Slate Restaurant-Greenville
Small Town Takeout-Lubec
SoPo Seafood Raw Bar & Seafood Market-South Portland
The Tides Beach Club-Kennebunkport
Twelve-Portland
Union River Lobster Pot-Ellsworth
Via Sophia by the Sea-Kennebunk
9 Maine Restaurants Guy Fieri Needs To Visit