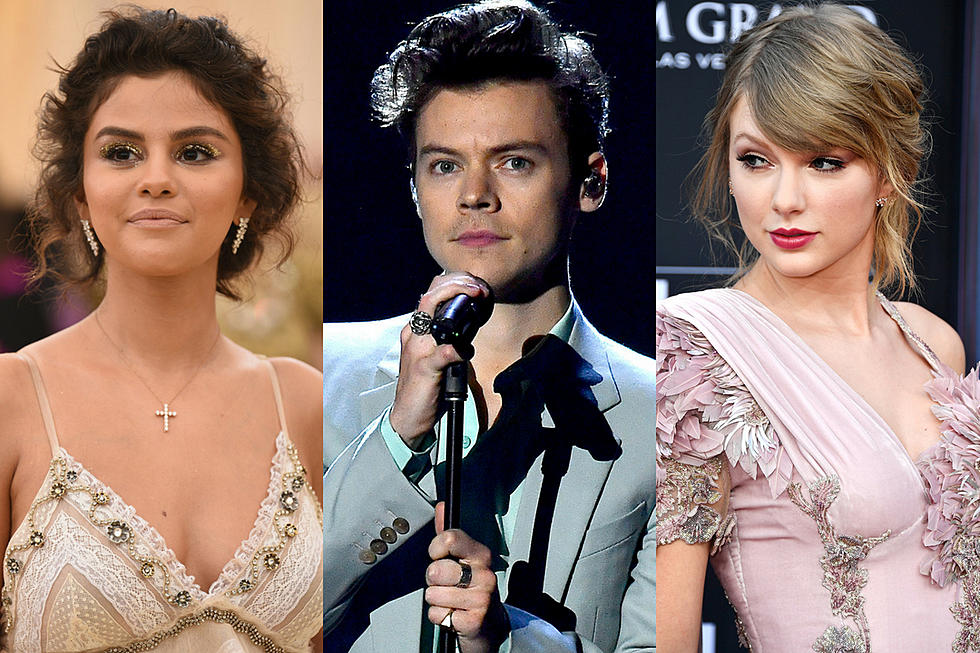 20 Hit Songs That Actually Sound Exactly the Same
Jason Kempin, Getty Images; Frazer Harrison, Getty Images
Have you ever found yourself listening to a new single, only to feel like you've heard it somewhere, somehow before? You might chock it up to your brain playing tricks on you ― pulling some errant, obscure melodies from the deep corners of your mind and conflating them as one ― but every so often, it's a bit more than a mere case of déjà vu.
Given the vast wealth of modern music, there's bound to be some overlap between tracks, but occasionally an artist will hit a little too close to home: More than a few singers have been slapped with lawsuits after borrowing too much from someone else. Other times, musicians can slide by with a widely acknowledged comparison ― it is, after all, certainly possible that major influences would trickle down into their work unintentionally, and half the fun of music is seeing it reimagined and repurposed in fresh ways.
Whatever the case may be, there have been plenty of recent hits that sound a lot like, well, other hits. Spanning everything from old favorites to more recent efforts, take a listen to tracks from Selena Gomez, Justin Bieber, Katy Perry and more below, and see if you can hear the similarities.
Selena Gomez's "Same Old Love" and Camila Cabello's "Havana"

Though released two years apart, both "Same Old Love" (2015) and "Havana" (2017) have almost exactly the same slinky, snap-accented intro.

Kesha's "TiK ToK" and Katy Perry's "California Gurls"

Both songs pair playful vocal effects with bouncy, synth-driven production.

Lady Gaga's "Born This Way" and Madonna's "Express Yourself"

Madge herself has claimed Gaga's 2011 track, "Born This Way," is a rip-off of her 1989 hit, and you can definitely hear the resemblance in the chorus.

"What a wonderful way to redo my song," Madonna told Newsweek of "Born This Way" in 2012, later adding to Brazilian TV show Fantastico: "I'm glad I could help [Gaga] write it."

Robin Thicke's "Blurred Lines" ft. Pharrell and T.I. and Marvin Gaye's "Got to Give It Up"

There's a reason the "Blurred Lines" bass line sounds so familiar: A U.S. Jury confirmed in March 2015 that the song had copied Marvin Gaye's 1977 single "Got To Give It Up," and Thick and Pharrell had to shell out a whopping $7.3 million for the mistake.

Fifth Harmony's "Work from Home" and Cashmere Cat's "Trust Nobody" ft. Selena Gomez and Tory Lanez

Though "Trust Nobody" clocks in at a much slower pace, the driving melody sounds eerily similar to 5H's "Work from Home," released six months prior. You can hear it strongest in the opening bars.

Bruno Mars' "Locked Out of Heaven" and the Police's "Roxanne"

Throwback king Bruno Mars has openly admitted his 2012 hit, "Locked Out of Heaven," is a nod to the Police.

"Hell yeah! You try to write a Police song!" he told MTV when asked if he thought the tracks sounded similar. "I grew up listening to the Police, I grew up performing in bars, singing Police songs ... As an artist, as a songwriter, your goal is to always have one of those songs that, from the very first chord, it does something to the body."

Taylor Swift's "Look What You Made Me Do" and Right Said Fred's "I'm Too Sexy"

These definitely aren't a direct match, but Swift felt the pounding, incessant bass that underscores the chorus of "Look What You Made Me Do" borrowed enough from Right Said Fred's "I'm Too Sexy" that they deserved a songwriting credit.

TLC's "Scrubs" and IMx's "Stay the Night"

The production for IMx's "Stay the Night," released six months after TLC's "No Scrubs," is nearly identical to the 1999 classic, and the accompanying music video is pretty spot-on, too. Some call it an homage, others call it a rip-off.

One Direction's "Best Song Ever" and the Who's "Baba O'Reilly"

The intro to One Direction's "Best Song Ever" bears an uncanny resemblance to the Who's 1971 staple.

Justin Bieber's "Somebody to Love" and September's "Cry for You"

September's 2006 cut is admittedly more dance-driven, but you can totally hear the similarities once the chorus kicks in.