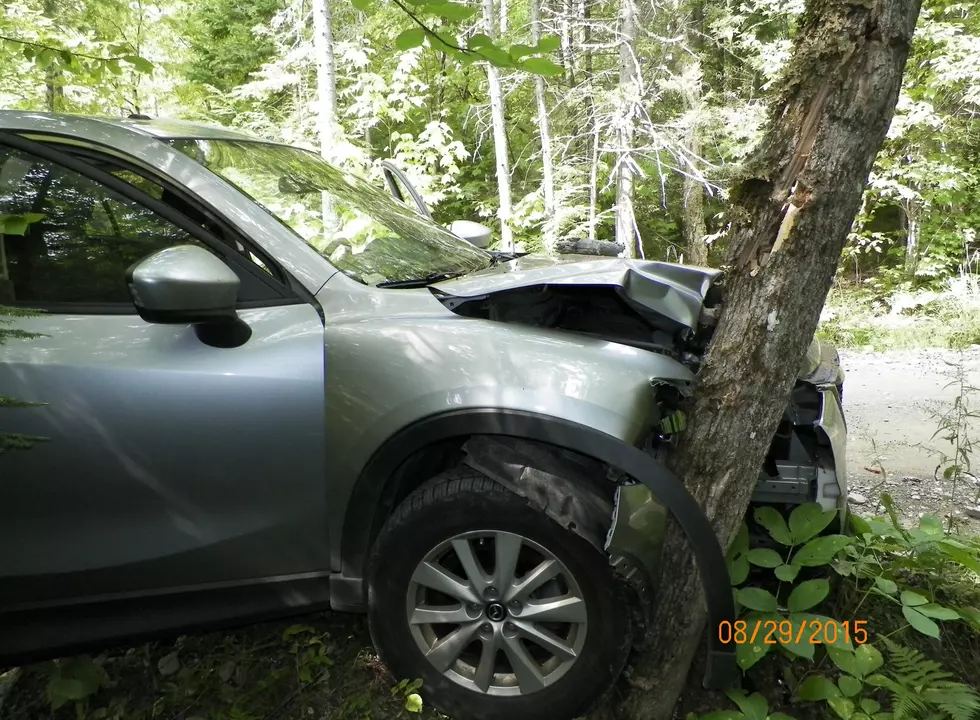 Selfie Photo Leads to Crash With Multiple Injuries in Southern Aroostook
Maine State Police - Troop F
A driver who took his eyes off the road to be in a "selfie" photo with his friends caused a crash in the Aroostook County town of Orient on Saturday.
State Police say 29-year-old Jordan Toner of Hampden was traveling with seven others on the Deering Lake Road around 1:30 p.m., when he leaned over to be in a photo with his friends. Toner lost control of his 2014 Mazda CX5 and crashed into a tree, according to a press release from Sgt. Chad Fuller.
Of the eight people in the car, two women sharing the front passenger seat sustained the worst injuries, Fuller said. One suffered a fractured nose and the other had neck and possible back injuries. Neither woman was wearing a seat belt.
One male passenger received a laceration on his face, another man was reported to have sustained minor injuries. The injured were transported by Calais Ambulance to Houlton Regional Hospital.
The passengers were identified as: Jesse Toner, 31, of Hodgdon, Adam Toner, 35, of Bangor, Elizabeth Toner, 28, of Hampden, Katharine Ferrill, 28, of Eddington, Kyle Ferrill, 28, of Eddington, Chris Dean, 29, of Orlando, Florida, and Meaghan Brown, 28, of Dedham.
Sgt. Fuller clarified on Sunday that the driver was not taking the photo himself, but  he was attempting to get into the picture being taken by someone else.
Maine State police issued Toner a summons for distracted driving. Trooper Adam Bell investigated the crash.