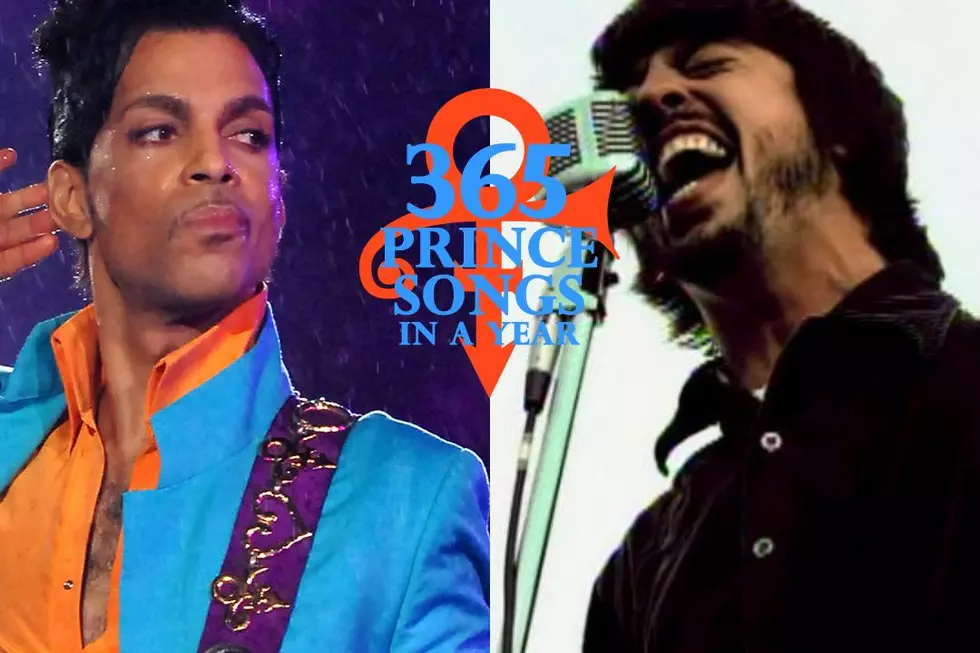 Prince Denies, Then Surprises, Then Ghosts The Foo Fighters: 365 Prince Songs in a Year
Theo Wargo, Getty Images / RCA
To celebrate the incredibly prolific, influential and diverse body of work left behind by Prince, we will be exploring a different song of his each day for an entire year with the series 365 Prince Songs in a Year. 
What had already been sealed as an otherworldly performance was elevated to a level of transcendent pop-star divinity when Prince reached the climax of his universally lauded 2007 Super Bowl halftime set with "Purple Rain" just as the skies opened up.
But if it was that rendition of his generation-defining 1984 anthem that made most fulsome use of the fruits of the rain gods, it was the rumble of his unanticipated cover of the Foo Fighters' "Best of You" immediately preceding it that must have summoned them.
Serenading an audience of more than 65,000 attendees (plus 140 million television viewers), Prince commanded a stage shaped as the iconic, contract-circumventing Love Symbol glyph devised during his early-90s Warner Bros. war. His 12-minute set at Miami's Dolphin Stadium was stocked with a dizzying medley of Purple Rain staples such as "Let's Go Crazy" and "Baby I'm a Star" as well as covers of Creedence Clearwater Revival's "Proud Mary" and the Jimi Hendrix Experience version of Bob Dylan's "All Along the Watchtower" — the latter of which Prince bled seamlessly into the Foo's chart-topping In Your Honor lead single.
While the CCR cover had been first introduced into Prince live sets three years earlier, the blending of "All Along the Watchtower" into "Best of You" was a sequence that was given its nationwide unveiling to the tuned-in millions on Feb. 4, 2007. Just days prior to Super Bowl XLI, this portion of the rehearsed medley was previewed in fragments on The Howard Stern Show, but it flew so far under the radar that not even the Foo Fighters themselves had been aware that it was in store.
"Dude, I have no idea why he did it, but I'd love to find out," Foo drummer Taylor Hawkins memorably told MTV News days following the Super Bowl performance. Walking MTV through his bewilderment at Prince's inclusion of "Best of You," Hawkins recalled, "I was watching the game at our producer Nick Raskulinecz's house, and since he's doing the new Rush album, all the guys from the band were there[...] "I mean, I'm outside smoking a cigarette with [Rush drummer] Neil Peart and someone sticks their head outside and goes, 'Uh, dude, Prince is doing your song.'"
Indeed, Hawkins's puzzlement was justified. Years earlier, in 2003, when the Foo Fighters had fashioned their own cover of Purple Rain's familiar ode to auto-eroticism, "Darling Nikki," the group reached out to Prince seeking permission for an official U.S. release. Having been released as a b-side to the band's Australian "Have It All" single, Los Angeles rock station KROQ had picked up on the track and began sneaking it into minor rotation. "We thought we would put it out as a special feature on a DVD," Dave Grohl suggested.
Worse, he went on to blast the group for daring encroach on the song that birthed the "Parental Advisory" sticker. In an Entertainment Weekly interview, an incensed Prince vented, "I don't like anyone covering my work. Write your own tunes!" Never mind Prince's collection of interpretations of other artists' tunes, the protective performer reminded EW readers he's as gifted as he is litigious, adding, "When I want to hear new music, I go make some," before pondering whether the Foo Fighters' offense is "the kind of thing the FCC would like to clean up."
This torpedoing of the Foo's "Darling Nikki" aspirations is what led many - including the band themselves - to speculate whether Prince had intended the inclusion of their song into his set as a gesture of spite. "[T]he thought went through my head that maybe he was doing it as a sort of [a] 'F--- you' to us," Hawkins considered. Even so, if there's a way to recover from being allegorically denounced by His Royal Badness, it's the excitement of seeing him whirling through your song. "Either way, it was pretty amazing to have a guy like Prince covering one of our songs — and actually doing it better than we did."
Relations between Prince and his adoring Foos remained ambiguous -  however not necessarily negative - following the incident. Grohl, in a humorous retelling at a 2011 L.A. concert at The Forum, recalled being summoned by Prince to jam, allegedly just a year following the Super Bowl performance.
As the story goes, plans were made for Grohl to visit Prince at soundcheck during his 21-night Forum residency; apparently forgetting that he made the invite, a confused Prince jammed Led Zeppelin's "Whole Lotta Love" with Grohl for roughly 10 minutes before wrapping up and making plans to jam again the following week. Plans, that is, that Prince must have again forgotten about. "I never heard from Prince again. But I swear it happened. I swear. And nobody saw it."
Perhaps Grohl, Hawkins, and company can rest easy now, after the 10th anniversary of Prince's fabled Super Bowl performance, when Morris Hayes, Prince's then-keyboardist, hinted to Billboard at Prince's approval of their work. "We loved the Foo Fighters," Hayes told the magazine.
Explaining the simple, yet decidedly Prince-like, reason Prince chose the song, Hayes told Billboard, "Best of You" kind of represents the best, [which was fitting for] the Super Bowl." And to the millions of viewers who tuned in ten years ago, while it was the Foo Fighters who penned "Best of You," it was Prince, undeniably, who had gotten the best of it.
Prince Magazine Cover Tributes From Around the World