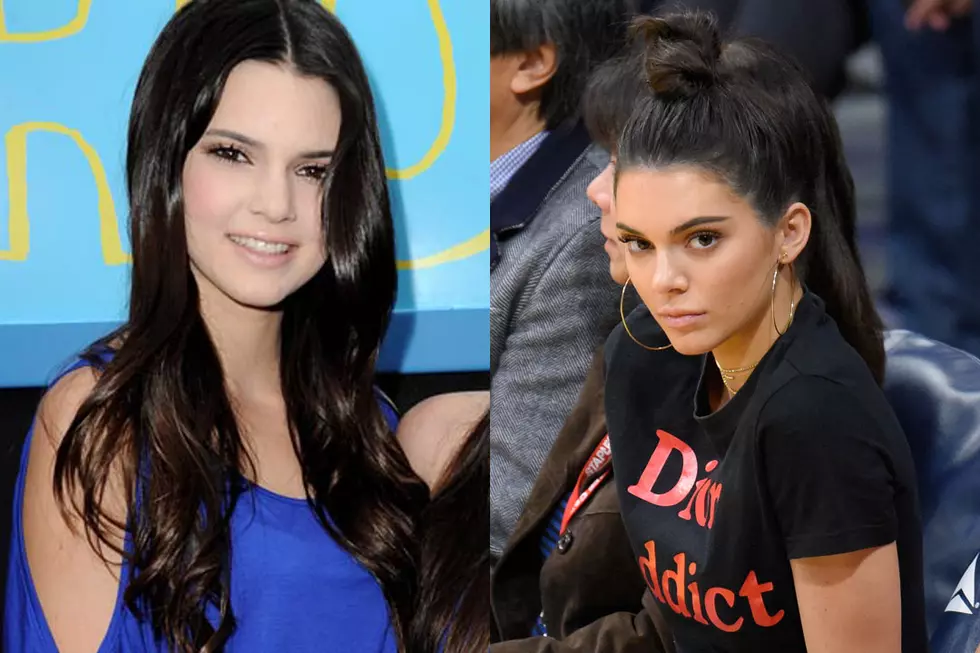 Kendall Jenner Denies 'Crazy' Facial Reconstruction Rumors
Kevin Winter / Noel Vasquez, Getty Images
Kendall Jenner is denying a fresh round of plastic surgery rumors after a November Instagram hiatus plus a video of her lips "lined" by sister Kylie Jenner sparked followers to wonder whether the model had gone under the knife and/or the needle. But Kendall deemed these accusations "crazy" in a new post on her website, once again insisting she can explain everything.
"When I deleted my Instagram back in November, people were saying, 'Kendall deleted her account to have full facial reconstruction!' I think they might have been referencing the day Kylie and I did a livestream for our book," Jenner wrote. "We had to hurry, so I let Ky do my face. I never wear lip liner or lipstick unless it's the occasional obvious red—and when I say never, I mean even when I'm doing a nude lip, it's basically just gloss! Anyway, I left all of the makeup on because we were so rushed and I went out and did my thing. I LOVED my makeup. I never say this, but I just felt so pretty."
Kendall's lips did appear larger after the handiwork from her sister Kylie, who finally admitted in May 2015 that she had started using lip fillers as a teenager. As a cosmetics mogul, Kylie also knows her way around a heavily-lined lip, and Kendall maintains that's why her lips looked so plump during the November Facebook Live appearance.
"All of a sudden, photos of us came out with headlines like, 'OMG Kendall got her lips done and got full facial reconstruction—look at her cheekbones, look at her nose!' I was like, this is CRAZY. I didn't even address it at the time. Because if I address it, people are going to be like 'Oh, so she's defending herself—she must be guilty.' Kylie saw it all unfold and felt bad, so she went on Snapchat and took the blame."
Kylie indeed issued her own apology on Snapchat shortly afterward, saying "you guys Kendall let me overline her lip today with lipliner and everyone thinks she got lip injections," finishing with, "I'm sorry Kendall."
"It's all so exhausting," Kendall continued. "As a model, why would I have my face reconstructed? It doesn't even make sense. It's crazy because sometimes I feel like people just want me to lose."
Did people claim Kendall Jenner got, quote, "full facial reconstruction," though? While the internet has abounded with compelling — but unconfirmed — photo 'evidence' of Kendall Jenner's nose job for years, a cursory search of both Google News and Twitter only turns up Kendall's own "facial reconstruction" language parroted in news headlines like the one above. A search for "Kendall Jenner" + "cheekbones" doesn't turn up much, either, though Kendall presumably did see commenters say it in the vast sea of Instagram comments.
While one can't help but recall Kylie's measured, very language-specific lip filler denials prior to admitting she underwent injections ("I haven't had plastic surgery. I've never been under the knife"), we'll take Kendall at her word.
Celebrity Plastic Surgery: Before + After