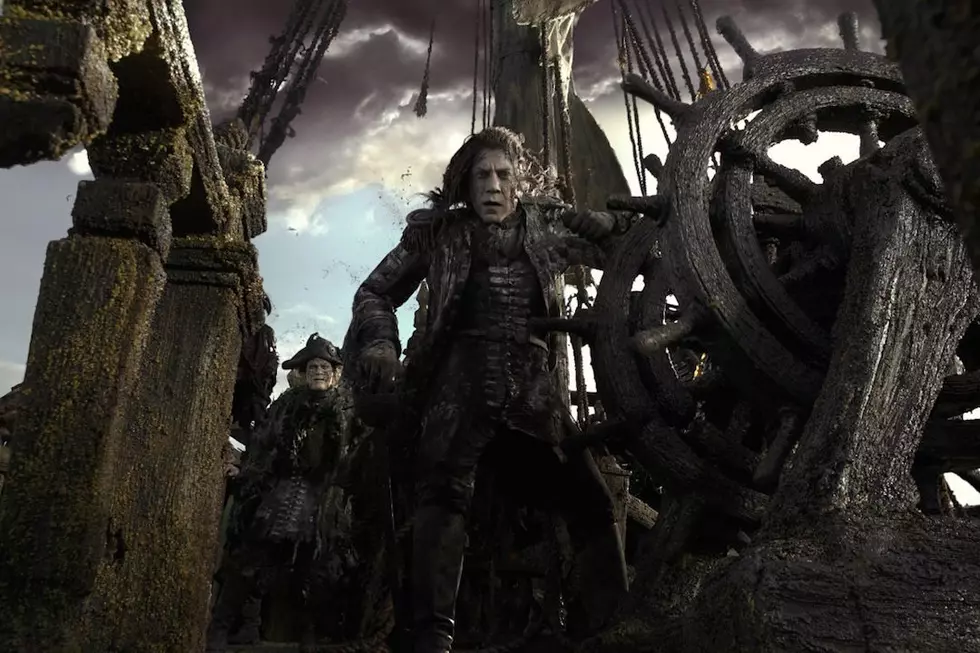 Javier Bardem Looks Ghostly in New 'Pirates of the Caribbean: Dead Men Tell No Tales' Photo
Disney
Over the years Disney has made their Pirates of the Caribbean villains more and more ridiculous. The films began with Geoffrey Rush's Captain Barbossa (no doubt the best bad guy of the series), then became super CGI heavy with Billy Nighy's tentacled Davy Jones, and seemingly went back to basics with Ian McShane's Blackbeard, but he used voodoo, so not the most traditional of pirates. (I still have no memory of who the villain was in At World's End, but that movie was a ridiculous mess overall.) And now for the fifth installment in the Pirates franchise nobody asked for, Disney is going back to a CG villain.
In Dead Men Tell No Tales, Javier Bardem's Captain Salazar is a ghost pirate who moves like he's underwater. We got our first look at him in the film's first teaser, where a nasty black liquid oozes from his mouth when he talks, reminiscent of Danny DeVito's Penguin. Bardem can certainly play villainy well, but does he need all the CG treatment to make his character truly spooky? I honestly prefer a classic good pirates versus bad pirates sword fight, none of this ghostly, witchy stuff.
A new 2017 movie preview from USA Today features a brand new photo of Bardem's nautical bad guy and he's looking quite pale. It shows Salazar aboard what appears to be his ghostly ship looking dead into the camera. So who is this guy? According to the official synopsis, Salazar is one of Jack Sparrow's (Johnny Depp) oldest enemies who encountered the franchise's hero as a young teenager. Now as Jack searches for the Trident of Poseideon, a must-desired artifact, Salazar and his men are out to kill Captain Sparrow for good.
The latest Pirates installment is directed by Joachim Rønning and Espen Sandberg, the Norwegian filmmaking duo behind Kon-Tiki. It'll feature a handful of Pirates regulars including Orlando Bloom's Will Turner, Rush' Barbossa, and an end credits cameo by Keira Knightley. The new movie also stars Brenton Thwaites as Henry Turner, Will's son, and Kaya Scodelario as astronomer Carina Smyth. Pirates of the Caribbean: Dead Men Tell No Tales hits theaters May 26, 2017.