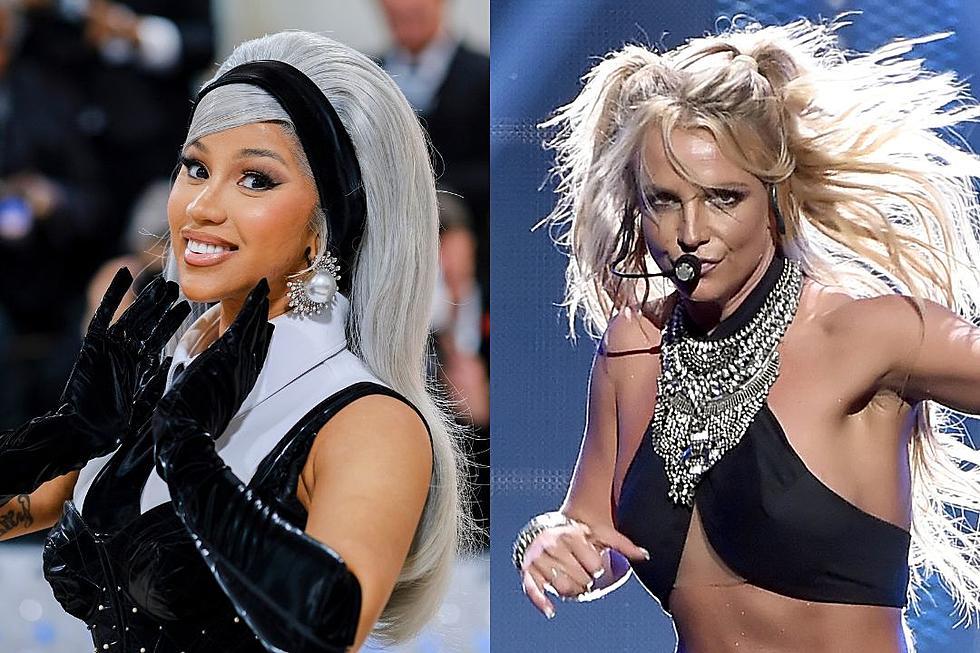 Cardi B References Britney Spears' Viral Dancing Videos in New Song With Latto: WATCH
Dimitrios Kambouris / Kevin Winter, Getty Images
Cardi B shouts out pop legend Britney Spears on a verse in "Put It On Da Floor," her new collaboration with Latto.
"I'm sexy dancing in the house, I feel like Britney Spears," Cardi raps while wearing a shirt that reads, "I feel like Britney Spears."
Watch Latto's "Put It On Da Floor Again" ft. Cardi B Music Video:
Online, fans reacted to the shout-out with excitement, even prompting "Britney Spears" to trend on Twitter.
One fan admitted that it gave them a "little rush" to hear Spears' name referenced in a song in 2023.
Another fan tweeted a video of one of the dancing videos Cardi B was referring to, replacing the original sound with Cardi's verse.
"Her impact til this day is still referenced in culture, I'm proud," another fan tweeted of Spears' legacy.
See more reactions, below:

This isn't the first time Cardi B has expressed her support for Spears.
Speaking on The Jason Lee Show in early 2023, Cardi discussed society's hypocritical treatment of celebrities, calling Spears the perfect example.
In 2019, Cardi B called herself a "very big Britney Spears fan" after she found out that Spears does yoga while listening to her music.
"I love you, and I totally understand," she told Spears via Entertainment Tonight at the time, referring to Spears' stay at a wellness treatment facility that year.
READ MORE: Britney Spears' Book Delayed After Nervous Celebs Reached Out
"When you're a celebrity, everyone wants to sue you, everyone wants a piece of the money that you work for — and it's very frustrating. Then you have, like, the whole world looking at you, no privacy, it's crazy. I can't even imagine if you do it for such a long time like her," the rapper added.
In 2022, Spears shared a video clip from her Maui vacation set to Cardi B's 2017 debut single, "Bodak Yellow."
Celebrity Fans of Britney Spears