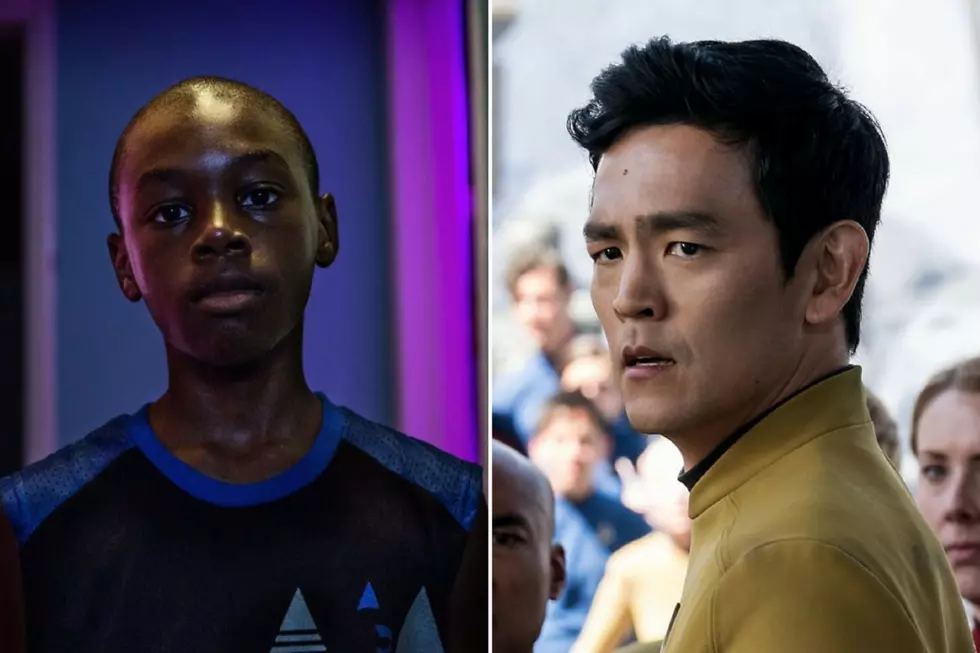 2017 GLAAD Media Awards Has the Fewest LGBTQ Film Nominees Since 2004
A24/Paramount
Today GLAAD announced their 2017 Media Awards nominees, which included plenty of exciting milestones worth celebrating, but also some disappointing news about the current state of Hollywood.
The 2017 nominees recognize the best LGBTQ-inclusive media in the past year, including movies, TV, music, comics, and journalism. Just skimming this year's film nominees, which included titles like Moonlight, Star Trek Beyond, The Handmaiden, Other People, and the indie Korean-led drama Spa Night, it seems like 2016 was a pretty great year for LGBTQ diversity on screen. Just look at how many queer actors and filmmakers of color were honored! Great news, right? Take a closer look and you'll notice that while GLAAD's Outstanding Film category, which honors the best LGBTQ-inclusive storytelling, is stacked with five nominees in the Limited Release category, the Wide Release list has only two, Moonlight and Star Trek Beyond, leaving the remaining three spots unfilled. That's the fewest number of wide released LGBTQ-inclusive films since the 2004 GLAAD Awards, which also only featured two films (Bend It Like Beckham and Under the Tuscan Sun).
It's clear that stories about queer and trans characters have steadily been flourishing in indie and international cinema, as well as on the small screen. This year 20 shows filled up GLAAD's Outstanding Comedy and Drama Series categories, including How To Get Away With Murder, Transparent, Supergirl, and Brooklyn Nine-Nine. The Outstanding Comic Book category was also filled with 10 nominees. (See the full list of nominees over at GLAAD's site.) And LGBTQ-diversity in comics only keeps growing; last week revealed that the latest issue of All-New X-Men features Iceman's first gay kiss. With so much to praise on TV and on the page, it's baffling that it's still a struggle to find more than two movies with wide release that featured positive LGBTQ characters and storylines. (It is worth noting that GLAAD defines what films are eligible for wide and limited release based on a combination of the "number of screens played, budget, and visibility." Previous Wide Release nominees like Freeheld and Pride only played on 148 and 124 screens respectively, compared to The Handmaiden's 125.)
In an op-ed for TheWrap, GLAAD President and CEO Sarah Kate Ellis wrote that the lack of wide release nominees this year reflects one simple truth: "LGBTQ people are still invisible in Hollywood film." Ellis reflected on the importance of diverse representation onscreen, and why now more than ever in our current political climate, Hollywood should be working harder to tell stories about all American minorities. Ellis called for more films featuring nuanced female protagonists, especially women of color, in light of President Donald Trump's executive order blocking federal funding for abortions overseas. Ellis wrote that the industry needs to "celebrate the Muslims and immigrants who truly make our country great" as a response to the administration's immigration ban this past weekend. As for further LGBTQ visibility on screen, the GLAAD president wrote, "While state legislatures demonize trans people, let's see greater representation for trans people and characters across all our media."
These may sound like the same calls to action and conversations that have been happening over the past several years regarding the absence in queer and trans visibility in Hollywood. I've dedicated numerous articles to highlighting why the film industry needs to do better for the LGBTQ community both off and onscreen, from the need for queer and trans superheroes, to authentic portraits of LGBTQ relationships. But in light of recent events the news of so few GLAAD wide release nominees feels more disheartening than ever. Right now, LGBTQ people need allies and support, and Hollywood has the ability to give that.
The GLAAD announcement comes less than a day after the LGBTQ community was sent into a panic after rumors spread that the Trump administration was planning to unveil an anti-LGBTQ executive order later this week. The rumor prompted the Human Rights Campaign (HRC) to issue a statement declaring their preparation to resist a possible discrimination order against the community. I felt anxious and nauseous when I first saw the rumors, and within hours numerous New York City protest events already popped up on my Facebook feed in anticipation of a possible E.O. Thankfully, The New York Times reported this morning that Trump plans to leave Obama's 2014 LGBTQ workplace protections in protections in place (at least for now). Still, the fear remains that at any moment the Trump administration could begin stripping the LGBTQ community of rights and enact orders of discrimination (orders which may likely be disguised as "religious freedom" bills).
The fictional stories we see on the screen might only be viewed as escapism from the nightmare news of the real world. And there's no doubt that going to the movies feels like a vital form of self-care right now. But film, and especially movies that reach larger domestic and international audiences, have the power to introduce more people to nuanced portraits of diverse queer and trans people. As GLAAD's Head of Entertainment Ray Bradford told me last year, queer representation in Hollywood isn't just about entertainment value and wanting to see ourselves onscreen, but is vital to human and civil rights. "There is an absolute connection between the images we see on the screen," Bradford said, "whether it's feature film, TV, comic books, video games, music, and either hindering or accelerating acceptance of our LGBT community in its rich diversity." Film has the power to build allies and empathy for the LGBTQ community, to introduce audiences to experiences they may be unaware of, to show the many diverse ways one can be an American.
It's incredible that a story about a queer black boy growing up in Miami is sweeping awards season, and that this past summer marked the first time a blockbuster featured an openly gay hero, who also happened to be Asian. But that's not nearly enough. Warner Bros. could depict an openly queer Dumbledore in the upcoming Fantastic Beasts sequels, as J.K. Rowling has hinted at. 20th Century Fox could include Karma, a queer Vietnamese girl, in their upcoming New Mutants film (and actually depict her as queer), as well as giving Ryan Reynolds' Deadpool a boyfriend in the sequel. LucasFilm could continue the diversity shown in their latest Star Wars films by adding a gay character, which J.J. Abrams has said is possible for the future of the franchise. And those are just a few suggestions. If Hollywood is going to stand with LGBTQ people, then they better start to depict an authentic America sooner rather than later.