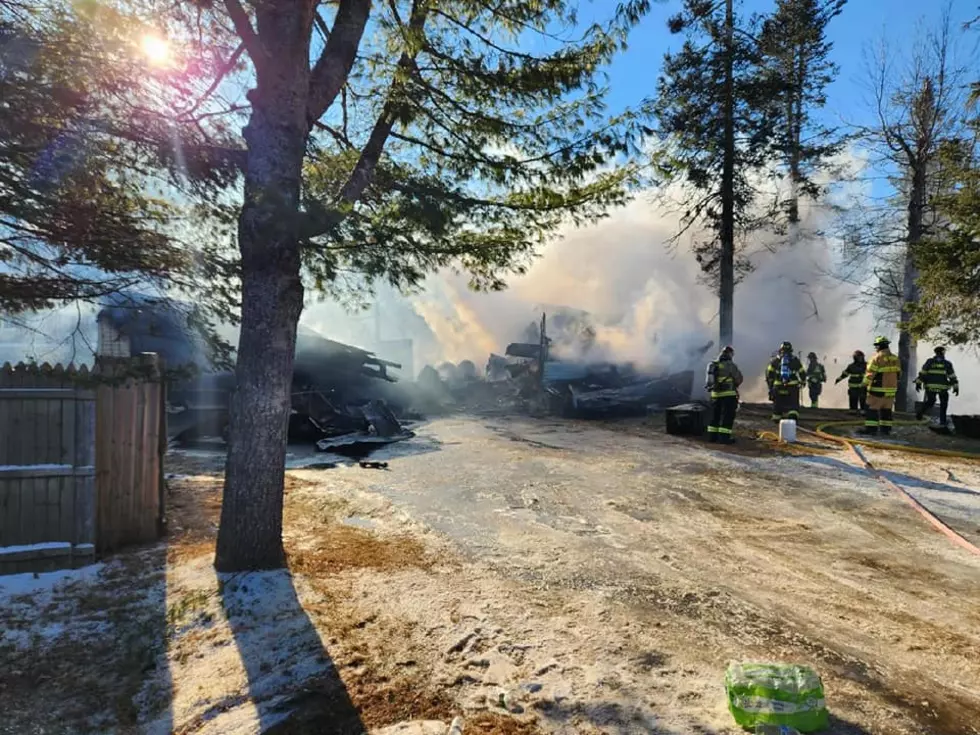 Fire Destroys Home in Etna, Maine
Etna Volunteer Fire and Rescue/ Facebook
Firefighters from eight communities battled a fire Tuesday morning at a home in Etna, just west of Bangor.
Shortly before 8:30 a.m., the Penobscot Regional Communication Center received multiple 9-1-1 calls about a fire at 1464 West Plymouth Road, according to the Etna Volunteer Fire Department.

Etna home fully ablaze when firefighters arrived
Officials say the first arriving units found a single-story home fully involved and the adjacent garage partially involved. Etna Assistant Fire Chief Leroy Hill told WABI-TV that the conditions were challenging with wind and water issues. Temperatures were in the upper 20s with wind gusts up to 25 miles per hour.
Residents were reported to be at work at time of fire
There were two people living in the home, but they were reportedly away at the time, according to a social media post from the Etna Fire Department.  The family's German Shepherd was unaccounted for after the fire. There were no injuries.
The home and its contents were a total loss. The American Red Cross has been called in to assist. Officials say the homestead has been in the same family for generations.
10 fire departments were paged after 9-1-1 call came in
Crews from Etna, Newport, Plymouth, Dixmont, Carmel, Hermon, Levant and Newburgh fire departments were on scene Tuesday. Detroit and Corinna fire departments were on standby.
The Maine State Fire Marshal's Office is investigating the cause of the blaze.
Where Were You? 25 Mainers Share Stories of the Ice Storm of 1998 on Its 25th Anniversary
On the MaineDOT Facebook page, several Mainers recalled their memories of this epic storm. Here are 25 of them.