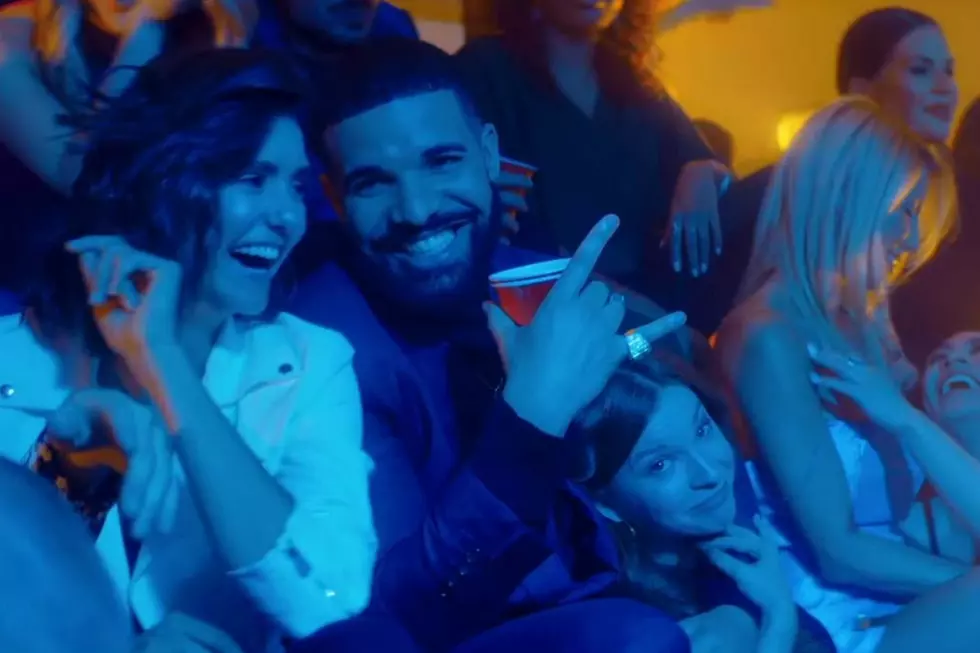 Every 'Degrassi' Reference You Missed In Drake's 'I'm Upset' Video
OVO Sound, YouTube
Drake has often commemorated his acting career in song, but late on Wednesday night (June 13), he treated Degrassi fans to the ultimate throwback, reuniting a host of his former co-stars for his newly released "I'm Upset" video. Returning to his on-screen high school for their 11th year reunion (don't question it), the rapper joins the class of 2007 for a debaucherous night of locker graffiti, bathroom hookups, and an excessive amount of drinking.
Among those featured are Lauren Collins (Paige Brooks), Nina Dobrev (Mia Jones), Jake Epstein (Craig Manning), Stacey Farber (Ellie Nash), Lauren Collins (Paige Michalchuk) and many, many more. But while there are a few obvious references to the long-running teen drama ― the ending credits include the series' theme song and archival footage ― there are also a few subtle nods that may have flown under the radar for even the fiercest Degrassi superfans.
Inconsistencies aside (Drake's character was in a wheelchair on the show, and here is...well, not), see all the callbacks you may have missed below, and watch the full video here.
Terri, played by Christina Schmidt, moved away in Season 3 after her abusive boyfriend, Rick (Ephraim Ellis), injured her enough to land her in the hospital. (And, for inquiring minds, yes ― that is the very same dude who went on to shoot Drake's character, Jimmy, leaving him paralyzed. On the list of Degrassi villains, he is quite high.)

Fortunately, Terri seems to have fully recovered, and can now be seen rocking a serious pair of statement earrings. (Also pictured: Jimmy's ex Hazel, a.k.a. Andrea Lewis).

Remember Ashley (Melissa McIntyre), Jimmy's ex-girlfriend? This is her, probably feeling pretty guilty about the fact that she once deleted his rap from the demo they submitted to a record label together and he's now a hip-hop superstar.

Ah, Ms. Kwan. The students of Degrassi may have seen her as a strict English teacher, but frankly, she deserves a gold medal for the ringer they put her through, and all while her husband was battling cancer! She still looks stressed, tbh.

Derek and Danny, one of Degrassi's many bromances, are apparently still going strong, and have since gotten some much needed haircuts.


Even the most devoted Degrassi stans may have missed this glow-up-to-end-all-glow-ups. Folks, please reacquaint yourselves with Connor Deslaurier (A.J. Saudin). Jenna is probably kicking herself real hard for letting go of this science nerd turned heartthrob.


Did you forget Kevin Smith and Jason Mewes were once in Degrassi? Well, here they are to remind you, in character as Clerks' Jay and Silent Bob and fittingly selling pot to the principal (Stefan Brogren's Archie Simpson).

Emma and Manny's Fraught Relationship

Even as an adult, the ever-uptight Emma is still policing Manny's wardrobe.


Jimmy Gets Revenge on Rick

No, none of these people were on Degrassi, but here's Drake's team chasing down Rick for landing Jimmy in a wheelchair.


The implication here seems to be that Spinner (Shane Kippel) is puking from too much drinking, but it also seems to be a callback to the time Spinner was undergoing chemo for testicular cancer and vomited in class.

Here's Toby's (Jake Goldspie) cameo, just in case you blinked.


Degrassi High Catches Fire...Again

This is a reference for the O.G. Degrassi fans. The show's school has gone up in flames multiple times, most notably when it burned down entirely in Degrassi Junior High, but also in the Drake-era Degrassi: The Next Generation, when Jimmy is deadset on making the dance "the perfect night," only to have a fire start.