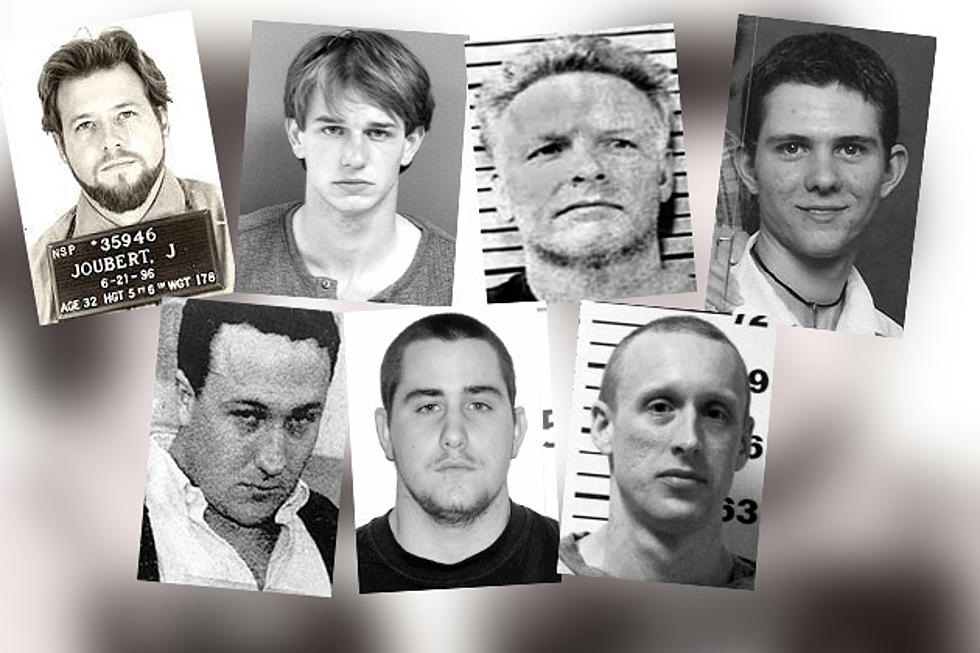 A Look Back At Some Of The Most Notorious Multiple Murderers in Maine
Clockwise from top left: Joubert, Ormsby, HIcks, Marhsall, Nielson, Cushing, Oken (Maine Department of Public Safety)
Axe murders on an island, a man who killed seven of his children and wife, and other bone-chilling tales of murderers in Maine.

Unfortunately, Vacationland has had its share of senseless killings despite the safe, small-town feel to the state. Here are some of the worst convicted multiple murderers in Maine's history.
September 1-4, 2006
Nielsen was a cook at the popular Sunday River Ski Resort when he killed four people including the innkeeper, her daughter, the daughter's friend and a guest of the inn.
Reports say Nielsen killed the male guest of the inn first, dumping his body in the woods a distance away.
He then killed the 65-year-old innkeeper, Julie Bullard, and on the next day when Bullard's daughter showed up unexpectedly with a friend, he killed them as well. The bodies of the three women were discovered by Nielsen's parents who were called to the inn by Nielsen after the murders.
No motive is known although a sentencing memorandum reported Nielsen saying he had been obsessed with thoughts of killing someone for many years and wanted to take over the lodge. He is serving a life sentence.
1977, 1982, 1996
After serving six years of a 10-year sentence for the suspected killing of his first wife in 1977 and a girl he met at The Gateway Lounge in Newport in 1982 he was released only to kill again in 1996.
It wasn't until he was caught in Texas trying to rob a girl at gunpoint that Hicks was caught and tried for all three murders. He was brought back in custody from Texas to Maine in exchange for the location of the three bodies, which were still lost at the time.
All three bodies were recovered. Some were found near Bangor, others in Aroostook County. Hicks is now serving a life sentence for his crimes.
3. James Purrington
July 1806
With so little known about mental health issues at the time, all the warning signs were ignored and an entire family was killed at the hand of the father in Bowdoinham.
On a hot summer night Purrington killed seven of his eight children and his wife with an axe before slicing his own throat with a straight razor. One Purrington child survived with a few injuries and went to live with neighbors.
The Purrington family was buried in a mass unmarked grave in Mt Vernon Cemetery, James is buried alone under part of the roadway along with his razor and axe.
4. John Joseph Joubert
1982-1983
His first victim was an 11-year-old boy who was jogging in the Portland area. When his body was found it has been strangled, stabbed and bitten, but at the time there were no suspects.
While law enforcement in Maine searched for the Portland killer, Joubert was on the move in Nebraska stabbing and killing two more young boys. After slipping up in Nebraska, he was charged with the murders of the Nebraska boys leading police to notice similarities between the murders and the murder in Portland where Joubert was from.
After being charged with all three murders he was put to death in Nebraska in 1996.
1873
A man working and living in Portsmouth, N.H., soon became infatuated with a young woman who lived on nearby Maine island, Smuttynose, in the Isle of Shoals.
He was trusted by the woman and those who she lived with although others who knew him thought Wagner to be strange and unlikable. Earlier in the morning when the island was blanketed in snow, Wagner knew the men who usually lived in a home on the island would be gone to the mainland, and the three women would be left for the night alone. This is when he sneaked to the cabin under the cover of darkness and attempted to rob and kill the women. After killing two women, Wagner noticed one of the women had escaped the cabin.
He searched until daybreak when he made his getaway by stolen boat. The escaped woman who had hid barefoot in the snow behind some large rocks turned the man in and he was caught the same day at one of his usual haunts.
Wagner was charged and hanged at the Thomaston prison in 1875.
6. Matthew Paul Cushing
2008
After a dispute with family, Cushing returned unexpectedly from the University of Maine at Orono to his family's home near Old Orchard Beach.
Armed with a stun gun and a knife, Cushing stabbed his mother, stepfather and 15-year-old stepbrother before setting their house on fire in an effort to cover the murders.
Cushing was just 22 years old when he received three consecutive life sentences. Although he has apologized for his actions he still has offered little motive.
7. Stephen A. Marshall
2006
After writing down the names and addresses of 29 Maine sex offenders from the sex offender registry online, Marshall traveled to Maine where he borrowed a gun and vehicle from his father in Houlton.
He then traveled to Milo and killed 57-year-old Joseph Gray and 24-year-old William Elliot in Corinth.
After finding Marshall fleeing from Maine on a bus, police tried to apprehend him when he shot himself.
8. Stephen Howard Oken
1987
Oken began his killing with a young girl in Maryland. She was found dead by her father with two fatal bullet wounds to the head.
Oken then went on to sexually assault and murder his sister-in-law just two weeks later. Fearing being caught, he fled to Kittery, Maine, where he then murdered the clerk at the hotel where he was staying.
Maine police were quick to catch him and he was sentenced to life in prison in Maine. He was then sent back to Maryland to stand trial for the other two killings.
He was put to death in Maryland in 2004.
9. Thayne Ormsby
2010
What started as a plot to kill an Amity man ended in the killing of three people, including one 10-year-old boy.
Just 20-years-old at the time, Ormsby was under the impression that 55-year-old Jeffery Ryan was a drug dealer (of which there never was supporting evidence). This personally peeved Ormsby to the point he felt the man needed to die.
He was not counting on the man being with company. Not only was a friend of Ryan's in the house when Ormsby showed up but Ryan's young son was there as well.
After stabbing Ryan to death, Ormsby stabbed Ryan's friend Jason Dehahn, then chased Ryan's son Jesse to a bedroom where he also was stabbed to death.
Dehahn managed to escape for a moment making it to the lawn outside the home. There Ormsby delivered the fatal stab wounds. Ormsby also stole Ryan's truck in an attempt to cover evidence and then set it on fire. Ormsby was sentenced to serve life in prison for all three killings as well as a few extra years for the arson of the truck.