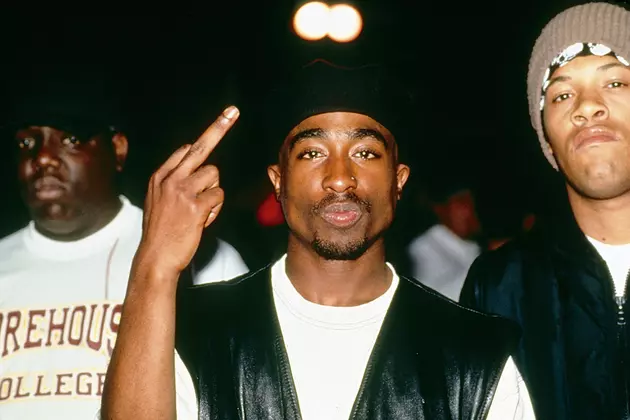 2Pac's Original Handwritten Lyrics Up for Sale
Al Pereira, Getty Images
Tupac Shakur is arguably the most revered hip-hop figure ever. He's so beloved that one of his original lyric pages is on sale for a retail price of $38,500, according to TMZ.
The lyric sheet is for Pac's "Catchin' Feelings" from his posthumous 2002 Better Dayz album. The rare piece of memorabilia is available courtesy of the company Moments in Time. MiT owner Gary Zimet tells TMZ that he got the lyrics from an ex-employee of the studio in which 'Pac laid the track in 1996 - the year of his death.
Sept. 13 is the 20th anniversary of the legendary artist's death, and Zimet held onto the lyrics purposely, waiting for the milestone before putting the sheet on the market. You can listen to the song below via YouTube.
In other Pac-related news, isn't it wild how people still think he's alive and well? Most recently, a picture surfaced of another look-alike, prompting "Tupac Isn't Dead" conspiracy theorists to claim that Makaveli never left. In the pic, the man purported to be Pac is taking a selfie.
The photo was captured by the YouTube account Tupac Legacy. In the picture, the man alleged to be Pac is wearing a Carhartt windbreaker and rocking a red bandana while sipping a soda.
While the person in the picture does have a striking resemblance to what the rap icon might have looked like today, sorry to say, but all evidence still points to him having passed in September 1996. This was probably just another imposter, or maybe it was Demetrius Shipp Jr., the actor who landed the Shakur role in the Death Row rapper's biopic.
133 Rapper-Launched Record Labels From the Past and Present