'House of Cards' Makes the Terror With New Season 5 Photos, Details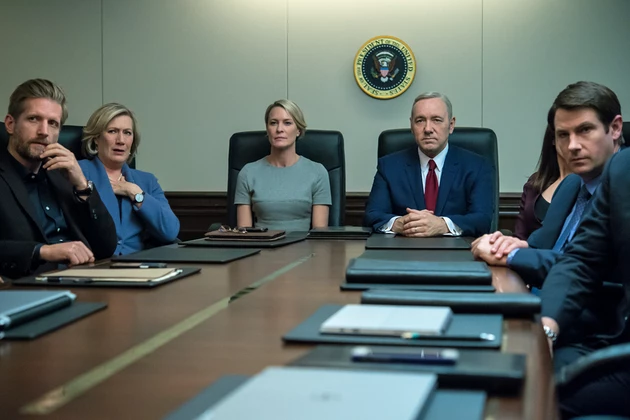 Netflix has been notably quiet on House of Cards Season 5, especially with a May premiere looming (already moved back from Q1). Appetite for political drama is understandably fickle these days, but get a new look at Season 5 with fresh photos and intel on how the Underwood administration will interact with Trump's.
Entertainment Weekly debuted new photos from the forthcoming fifth season, itself set to bow on Tuesday, May 30. In it, you'll see Kevin Spacey's Frank and Robin Wright's Claire once again presenting a united front, along with returns for Neve Campbell's Leann Harvey, Joel Kinnaman's Will Conway, and wife Hannah (Dominique McElligott).
.@HouseOfCards' showrunner says "the battlefield for season 5 is the American psyche": https://t.co/QPMbeGh7FR #HouseOfCards pic.twitter.com/MrWz2BXiZK

— Entertainment Weekly (@EW) April 21, 2017
As to how House of Cards will avoid the landmine of reality's current political crisis (Season 5 was written before the election), executive producer Melissa James Gibson noted that only select aspects would hit close to home:
Sure, the resonance sometimes feels eerie. But Trump is an outsider who's trying to blow up the system, and Francis is the opposite … The battlefield for season 5 is the American psyche. That may be one parallel with our real world.
Thus far, relatively few details of House of Cards Season 5 are known, other than the announced departure of showrunner Beau Willimon, who will be succeeded by writers Frank Pugliese and Melissa James Gibson. Season 5 has moved from the show's usual Q1 premiere to May 30 (a Tuesday, notably), while new guest stars will include Oscar-nominee Patricia Clarkson and Campbell Scott.
We'd expect some actual footage before long, but stay tuned for more on House of Cards Season 5 in the meantime.
Subscribe to Q 96.1 on
Subscribe to Q 96.1 on
Check Out 100 TV Facts You May Not Know!

Source:
'House of Cards' Makes the Terror With New Season 5 Photos, Details