Blues, Brews & BBQ: 2-Day Blues Festival In Bangor
July 28 4:00 PM
-
July 29 10:00 PM
Renowned blues artists from all over the United States are coming to Bangor for the third annual, Blues Brews & BBQ, presented by Penobscot County Federal Credit Union. This year's festival will be our biggest yet. Two days packed with some of the best artists & best music on the blues scene today!
Additional Information
The Hollywood Casino Stage will be cranking with a variety of blues – from Delta Blues, to Chicago Blues to Texas Blues. Grab your lawn chairs, gather up your friends and get ready for a weekend filled with incredible blues music, finger licking good food and frosty brews.
We hope you're ready for a fun time Bangor, because Blues, Brews and BBQ is in town and ready to jam!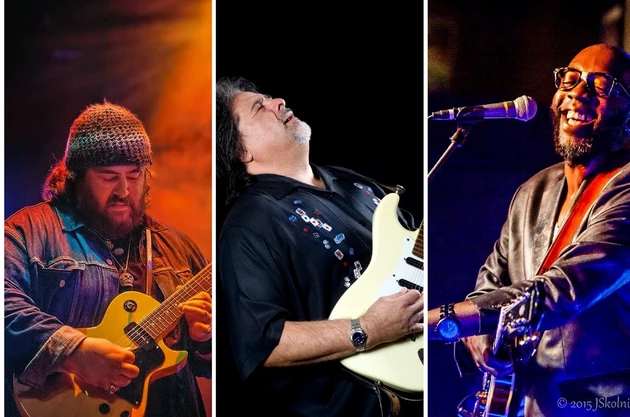 FRIDAY – 28TH

General Admission
Presale – $20
At Gate – $25
SATURDAY – 29th
General Admission
Presale – $20
At Gate – $25
WEEKEND ACCESS – 28th thru 29th
PERFORMANCE SCHEDULE
Friday 28th – 4pm to 10pm
4 p.m. – BETWEEN DEAD STATIONS – Maine- A modern blues trio from Maine featuring gritty vocals & searing guitars.
Subscribe to Q 96.1 on
5:30 p.m. – SEAN CHAMBERS – Florida – One of the finest blues artists on the scene today with gripping vocals and electric guitar work.
Subscribe to Q 96.1 on
7 p.m. – DANA FUCHS – New York – A phenom singer, songwriter frequently compared to Joplin and Jagger. Dana starred in "Across the Universe" film & soundtrack.
Subscribe to Q 96.1 on
8:30 p.m. – Jimi Hendrix Experience by TEXAS FLOOD – Texas – A whole new vibe this year. Get ready for their raw, high energy playing and spot on performance.
Subscribe to Q 96.1 on
Saturday 29th – 1pm to 10pm
1 p.m. – STESHA CANO – Maine – Easy to listen to, hard to define singer-songwriter from Maine who breathes life into every syllable!
Subscribe to Q 96.1 on
2:30 p.m. – JAMES MONTGOMERY – Boston – When James plays his harmonica, he really "brings it home". He carries on the tradition of blues, and is one of the most dynamic performers on the scene.
Subscribe to Q 96.1 on
4 p.m. -MURALI CORYELL – New York – Murali dazzles audiences with passionate and dynamic live performances that leave his audiences wanting more!

Subscribe to Q 96.1 on
5:30 p.m. – MR. SIPP – Mississippi – A Delta Blues Force recognized for his amazing vocals, songwriting ability, musicianship and upbeat, outlandish shows!
Subscribe to Q 96.1 on
7 p.m. – NICK MOSS BAND – Chicago – Recognized as one of the greatest guitarists of his generation, fans flock to his shows knowing they will be a grand musical experience!
Subscribe to Q 96.1 on
8:30 p.m. – COCO MONTOYA – California – Renowned guitarist and vocalist, Coco mixes forceful, melodic guitar playing with passionate vocals and memorable songs, delivering the blues' hardest truths.
Subscribe to Q 96.1 on
Additional details: Please bring chairs as there is no other seating. No food, beverages, umbrellas or weapons may be brought into the venue, lawn chairs are allowed. Alcohol sales are cash only. Under 21 is allowed in the venue, but proper ID is required to purchase alcohol. All sales are final. No refunds. No pets allowed except service animals.
Tickets are non-refundable but are transferable. Admission includes all entertainment. Food may be purchased separately. No outside food, beverages, weapons, coolers, laser pens and similar focused light devices, professional cameras and recording devices, musical instruments, scooters, bikes, bags or umbrellas are allowed inside the venue. Must be at least 21 years old with valid ID to purchase or consume alcohol.
For questions or more information, please email kathy.hardy@townsquaremedia.com
Find us on Facebook
A Townsquare Media Live Event